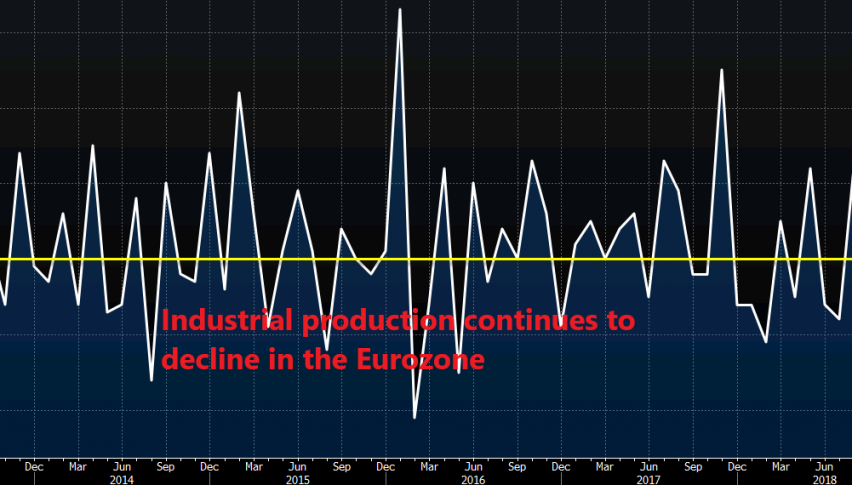 Eurozone Economy Heads into Stagnation as Fundamentals Go from Bad to Worse
Posted Wednesday, February 13, 2019 by
Skerdian Meta
• 1 min read
The economic data from the Eurozone has been pretty stinky in the second half of 2018 and while the ECB is patiently waiting for it to get better, it is only getting worse. The services and the manufacturing sectors are in contraction in Italy and France while Germany is heading there too.
The Italian economy is officially in recession as it has shrank during the last two quarters of 2018. The Italian politicians have confirmed it although they don't like it and from their recent comments, it looks like they are trying to get their hands on the Gold reserves of the central bank to help their economy, since Italy holds the thirds largest Gold reserves in the world after the US and Germany.
This morning, we had a chance to see the industrial production report. Industrial production turned negative in September, declining by 0.3%. It picked up slightly in October but it posted a major decline of 1.7% in November. December's figure was expected at -0.7% and it came at -0.8% for that month, showing that the industrial sector is contracting as well.
In fact, the annualized number showing production for 2018 came at -4.2% against -3.3% expected. That is a major decline in industrial production for a year and it gives you the impression that the Eurozone economy is in recession. That might actually turn out to be true if the data continues to come like this.
The Euro has been holding up well to be honest, but if the data deteriorates further, the ECB will start sounding increasingly dovish eventually and the Euro will resume the long term bearish trend.