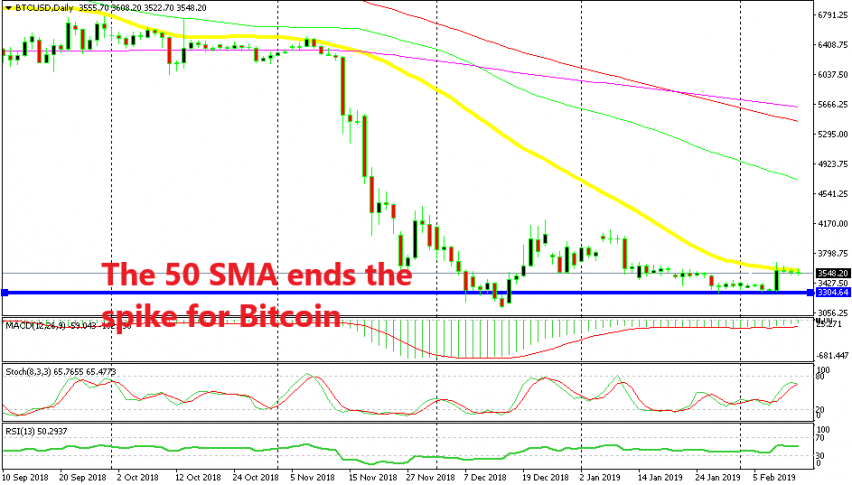 Bitcoin's Jump Stalled at Moving Averages
BITCOIN spiked higher on Sunday on some positive comments about crytpocurrencies. Yes, the crypto market is open on weekends. I wasn't following the market that day, but on Sunday evening I had a look at it and decided to go short on Bitcoin since the spike stopped and the main trend is still down. Every jump in digital currencies in the last several months has been pretty minimal and short-lived.
This last one looked just like the others, probably worse for buyers since it was worth only a few hundred pips. But, volatility has declined recently, especially to the upside, so don't expect much bigger moves than this one. We didn't, so we opened a sell forex signal as Bitcoin reached the 100 SMA (yellow) on the daily chart.
As you can see from the daily chart above, this moving average has been providing resistance before and it did so again this time. Besides that, the stochastic indicator is nearly overbought, which means that this move is almost over. Stochastic is reversing down now so let's hope that the bearish trend resumes soon.
It's the 100 SMA providing resistance on the H1 chart now
Switching to the H4 chart, we see that here it is the 100 SMA (red) which has been providing resistance at the beginning of January when we went short on Bitcoin again and made some nice profit. The jump last stalled at this moving average again Sunday and that's where we decided to sell Bitcoin Again.
Now the price has frozen for the last few days, as it usually does after a considerable move. But, sooner or later the next move will come and it is pretty likely to be on the downside, since that's what has happened in more than a year and these moving averages have never been broken since Early October. So, hold on to your trade and let it run until the sellers decide to make their move.