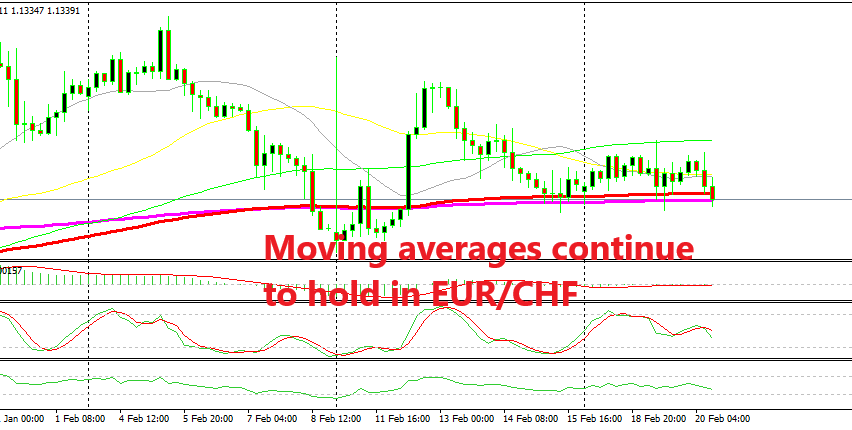 EUR/CHF Still Unable to Push Below Moving Averages
Posted Wednesday, February 20, 2019 by
Skerdian Meta
• 1 min read
EUR/CHF used to be on a bullish trend during January, although in February we have seen this pair trade mostly sideways as the Euro and the safe haven currencies have been quite uncertain what direction to take. The sellers have tried to push below the 100 SMA (red) and the 200 SMA (purple), while we have seen buyers become active down there.
These two moving averages stand at around 1.1340 which has been a support area for EUR/CHF. The buyers have reversed the price higher at these tow moving averages and have tried to push higher, although the attempts have been pretty weak and the highs have gotten lower.
This sort of puts bears on charge, but at the same time, the bears haven't been able to break below these two moving averages since early last week when they pushed the price below them. Although, even in that occasion, the price returned back above pretty soon, so they haven't been able to set the rules for this game either.
Now we are back at this moving average and the price has pierced them again but the selling pressure seems to be fading. This is a good place to buy by the way, but we are already long from higher above. But if you are not in a trade on EUR/CHF, then you might consider going long from here.