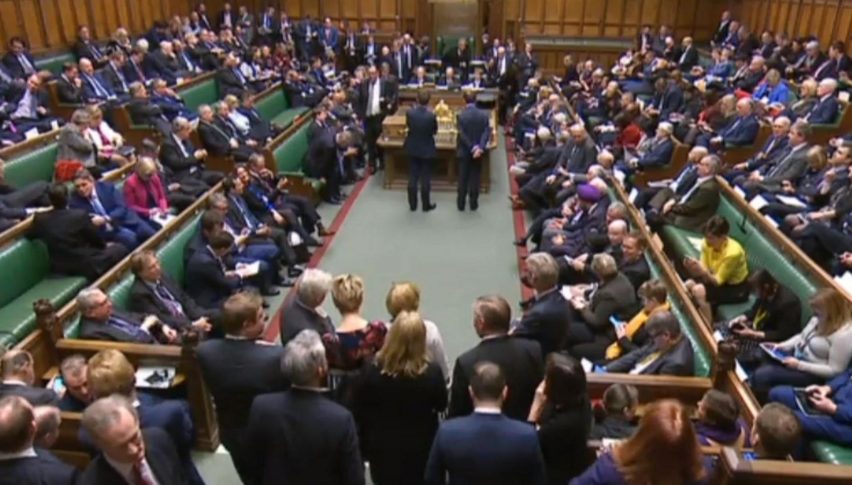 US Session Forex Brief, Feb 20 – UK Political Scene Continues to Shuffle, While Markets Wait for the FOMC Minutes
Posted Wednesday, February 20, 2019 by
Skerdian Meta
• 4 min read
The mess that is the British politics is getting even messier. Earlier this week we saw seven Labour MPs leave the Party to create "The Independent Group" for reasons that only they know. Today, three more MPs left to join this group, although these three seem more reasonable since Theresa May's government is guilty to a large degree for this mess that Brexit and the UK is right now. But, the Labour MPs leaving the Party doesn't make much sense. They stated a few weak issues that they had, but we have already forgotten their "issues" because they were nonsense, so the question arises, who has paid them?
Anyway, the GBP didn't mind the Labour MPs leaving as GBP/USD surged nearly 200 pips yesterday, but it is feeling the pressure today since Theresa May's majority now falls to just 224 together with the DUP Party of Northern Ireland, which is very close to the 222 minimum. If there will be additional Tory MPs leaving, then May is out of business. As a result, the GBP has been one of the weakest currencies today.
That said, we're not seeing wild moves in financial markets today apart from GOLD which makes new highs, although that's where the cash flows to when the uncertainty is high. The reason for the low volatility today is the FED which will release the FOMC minutes from their last meeting. Although, I don't expect much from these minutes since the FED made its position clear in the last meeting and during these past two weeks with their comments. The FED has shifted from extremely hawkish in the last two year to less hawkish and less aggressive regarding rate hikes now.
German PPI – The German producer price index declined by 0.4% in December as last month's report showed. PPI was expected to decline again in January by 0.2%, but instead it grew by 0.4%. The annualized number came at 2.6% against 2.2% expected, but down from 2.7% in the previous reading.
ECB's Praet Doesn't Sound so Confident Now – ECB member Peter Praet was speaking in Frankfurt early this morning saying that the normalization of central bank instruments does not necessarily mean monetary policy tightening. He added that he expects key rates to remain at present levels through the summer of 2019.
UK's Hunt Still Pushing for the Brexit Deal – The UK foreign secretary, Jeremy Hunt, sees a way to get a majority in the Parliament for the Brexit deal. If we can make simple changes to backstop, we're confident a deal can get through. Changing the backstop is the only way through this situation. 29 March is an important deadline for Brexit and it is legally-binding. I am confident if we solve backstop issue, we can pass a Brexit deal through Parliament. Yes, just that issue and everything will be jolly good, won't it?
IMF Likely to Cut German Growth Again for 2019 – The International Monetary Fund cut economic growth projections for the Eurozone and Germany in January. Now, the head of he IMF Christine Lagarde is saying that they might cut growth futher for Germany to 1.0% from 1.3% actually. If US car tariffs will be applied, then it will be cut even more than that, I assume.
UK CBI Industrial Order Expectations – The industrial order expectations turned negative again in January, coming at -0.1% after being positive for two months. Today, this indicator was expected to deteriorate further and come at -5 points, but it turned positive coming at 6 points.
Three Tory MPs Leave – Heidi Allen, Anna Soubry and Sarah Wollaston are said to have left the UK Conservative Party and joined the Independent Group. This makes 11 MPs in this newly formed group. I thought that made 10, but who can keep count of the British politics right now?
Theresa May Speaking in Parliament – UK PM May was speaking at the British Parliament a while ago saying that no one expected Brexit to be easy. True, but it has become too difficult for no reason either. The Conservative Party will offer decent, moderate and patriotic politics and implementing Brexit decision of the people is the right thing for the country. She added later that she will go to Brussels with the concern from Parliament over backstop since that's the matter. We have agreed on a work-stream on alternative arrangements to the backstop.
The US Session
US MBA Mortgage Applications – US MBA mortgage applications for last week increased by 3.6% after having declined by 3.7% in the previous week, which was revised lower to -6.9%. The purchase index came at 232.7 points against 228.9 prior, the market index came at 365.3 points against 352.6 prior and the refinancing index came at 1,084.4 points against 1,019.2 previously.
Eurozone Consumer Confidence – The consumer confidence has been deteriorating in the last several months and it posted new lows for December at -8 points, as January's report showed. Today's report is expected to show the confidence for January at -8 points once again.
FOMC Meeting Minutes – The FOMC meeting minutes will be released this evening at 19:00 GMT, but this release will only be online due to the weather. Although as I mentioned above, I don't see them do too much damage since the market already knows where the FED stands right now – basically in a wait and watch mode.
Bullish US WTI Crude Oil
The trend has been bullish for two weeks
The pullback is complete
The 50 SMA is providing support on the H1 chart
The previous candlestick is pointing to a reversal
The 50 SMA is holding the uptrend in place for US Oil
A while ago, we went long on US Oil as the price was retracing lower on the H1 chart. The retrace seemed complete since the stochastic indicator was oversold and the 50 SMA (yellow) was providing support as well. I wanted to get a confirmation of a bullish reversal when I opened this trade and now, the confirmation has arrived. The previous candlestick closed as a doji which is a reversing signal.
In Conclusion
Markets continue to remain pretty quiet today as they have been all this week. I expect this to continue until the FOMC minutes are released, but even after that, I don't see too much drama coming up. But, we might finally get a direction in forex since we have only seen some scattered price action in the last few days.