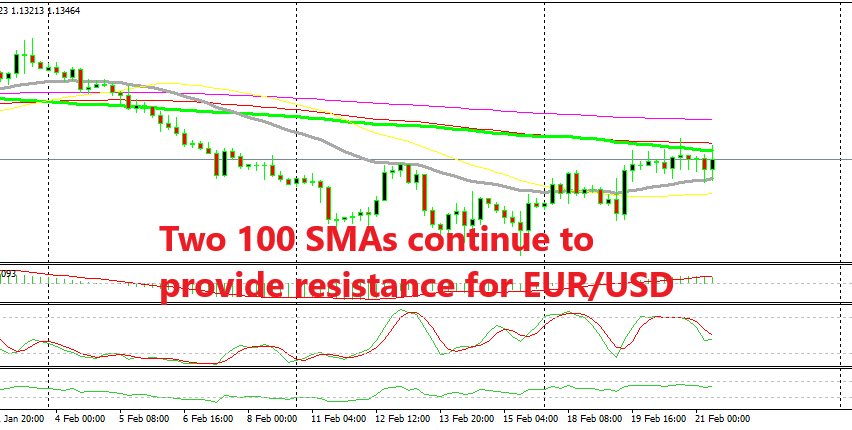 EUR/USD Stuck Between 2 MAs
EUR/USD has been on a bearish trend in the last several weeks until it made a bullish reversal last Friday as the USD got sold off across the board. This reversal is not exactly a trend reversal since the price hasn't made new highs. If this pair moves above the 1.16 then we can consider it the beginning of a trend reversal; below that level, EUR/USD is still bearish.
The highest that this pair reached yesterday was 1.1370 right before the FED released the FOMC minuter from their last meting. Although, the resistance comes at 1.1350-60 which has been the high of many H4 candlesticks as you can see from the H4 EUR/USD chart above.
The 100 simple MA (green) has been providing resistance to the upside during this time which has been reinforced recently by the 100 smooth MA (red). We are already short on this pair below these moving averages as 1.1340, hoping to get some pips as EUR/USD reverses down from these two indicators.
The sellers like us have tried to reverse this pair down a couple of times in the last two days, but they have been finding support at another moving average. The 20 SMA (grey) has held the decline and reversed the price back up. So now, EUR/USD is stuck between the 20 SMA at the bottom and the 100 SMAs at the top. It's a tough fight but let's see which one side is going to win this battle. We hope it's the bears.
EUR/USD should break below 1.06 this week with the business climate and inflation softening further in September
1 hour ago