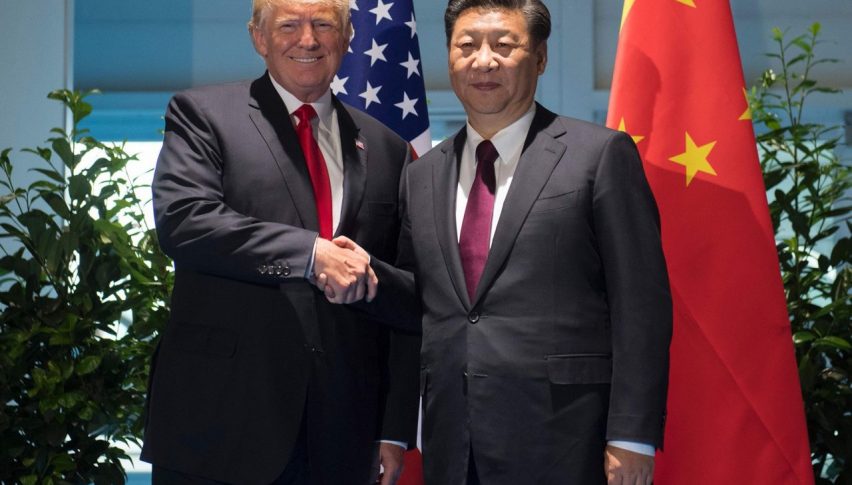 US Session Forex Brief, Feb 25 – Risk Assets Climb as Sentiment Improves on China-US Comments
The risk sentiment seems to have improved today despite low volatility in financial markets. Stock markets are all higher today and are still grinding higher, risk currencies are also higher apart from the CAD which has just made a bearish reversal, but that's another story. Safe havens are sliding lower slowly although the decline is very slow, which tells us that traders are still careful not to run away too far too fast because as things have been going in the last year or so, everything might change in a blink and when things change, they usually change for the worse.
The reason for this shift in the sentiment have been comments coming from US and China. Donald Trump had a number of tweets in the last two days and they all seemed to be in positive tones. Below you will find tweets that the real Slim Shady, sorry the real Donald Trump, made yesterday and today:
1. I am pleased to report that the U.S. has made substantial progress in our trade talks with China on important structural issues including intellectual property protection, technology transfer, agriculture, services, currency, and many other issues. As a result of these very...…
2. ….productive talks, I will be delaying the U.S. increase in tariffs now scheduled for March 1. Assuming both sides make additional progress, we will be planning a Summit for President Xi and myself, at Mar-a-Lago, to conclude an agreement. A very good weekend for U.S. & China!
3.
You get the picture, the new tariffs planned for March 1st will be delayed for now and they might even get cancelled if things go well. Talks are indeed going well as both sides confirmed today, which has added to the positive momentum and the third one is a call to OPEC cartel to stop trying to increase the prices artificially. That sent Crude Oil diving and it has lost nearly $2 in less than two hours. This is the reason why the CAD is losing ground now.
China Confirms Trump's Tweets – Senior Chinese diplomat, Wang Yi, commented this morning that trade negotiations with US have achieved 'concrete progress'. Progress provides positive prospects for stability in US-China relations. It also provides positive prospects for global economic development. These comments added more fuel to the positive momentum.
BOE's Carney Speaks – Bank of England Chairman Mark Carney held a speech in London earlier this morning, saying that fragmentation of markets is in no one's interest, as if nobody knows. We're taking all steps needed to ensure that Transatlantic derivatives trading continues seamlessly post-Brexit and measures announced will ensure that derivative markets stay open and that high regulatory standards are maintained post-Brexit. There was no impact on the GBP whatsoever. He ended the speech repeating that the biggest risk for financial stability would be a no-deal Brexit.
Rutte, Skeptical on A Brexit Breakthrough – Dutch PM, Mark Rutte, commented earlier and he is not optimistic about May and Juncker finding a new way of handling backstop. Could accept additional 'interpretation' of what's been agreed in the divorce deal, but "We are sleepwalking into a no-deal scenario", he said.
EU Tries to Cover Up the Failure of the Junckes-May Meeting – The European Commission made official comments about the meeting between EU's Juncker and UK's Theresa May. They said that the two officials agreed on the need to conclude Brexit work by March summit. Juncker and May took stock of work done so far and good progress is being made on Brexit. I don't think they made good progress, otherwise they would be jumping to tell us what they agreed on. So, this points to a delay in Brexit and the following comments show that.
DUP's Wilson Calling to Delay Brexit – The DUP Party MP Sammy Wilson of Northern Ireland said that it may make sense to delay Brexit by a couple of months. A delay on Brexit meaningful vote is the 'right thing to do'. It seems that this is the most reasonable thing to do right now.
The US Session
FED's Bostic Sees Just 1 Rate Hike in 2019 – The Atlanta FED president Raphael Bostic spoke to the Wall Street Journal today. The main comment was that he sees one rate hike this year and one more in 2020. That's pretty dovish, I reckon. He thinks that there is room to run with a very slow pace of rate hikes as long as the economy is "running fine". The aim is to get the Fed benchmark rate to a so-called neutral level. A slow approach to get to neutral is a good path for the Fed. Bostic expects economic growth in the region of 2.2% to 2.5% this year and he doesn't expect inflation to exceed the 2% target.
Trump's Tweet Sends Oil Crashing Down – Donald Trump tweeted a while ago asking OPEC to relax and take it easy. Oil prices are going to high and the world can't take that right now since it is in a fragile situation. He is right about the fragile part because the global economy is in a very weak spot at the moment and higher energy prices would only hurt it further.
Chicago Fed National Activity Index – The Chicago FED national activity index for December was revised lower to 0.05 points from 0.27 points. The number for January was expected to come at 0.15 points, but it missed expectations falling to -0.43 points.
US Final Wholesale Inventories – US wholesale inventories have been sort of volatile but they have been growing in the last several months nonetheless. Today's report is for December and it is more than two weeks late due to the US government shutdown. Inventories for December are expected to have grown by 0.3%, the same as in December.
FED's Clarida Speaks – FED's Richard Clarida will participate in a moderated discussion titled "Fed Listens: A Conversation with Community Leaders in Southern Dallas", in Texas. Audience questions are expected, which should make the speech more interesting.
The trend has been bullish for two months
The 200 SMA has providing support again on the H4 chart
The sentiment has turned positive
The 200 SMA is still holding in USD/JPY
The 200 SMA moving average has been providing solid support during the second part of this week and the 50 SMA (yellow) has caught up as well and it is adding strength to the support. USD/JPY slipped lower this morning to the resistance area around 110.50-60 but the 200 SMA held its grown really well once again. Now this pair is turning bullish as it bounced off the 200 SMA and the improving sentiment is helping the buyers.
In Conclusion
Crude Oil is still sliding lower on Donald Trump's tweet which is hurting the Canadian Dollar. Could this be the turnaround that Oil and CAD sellers were waiting for? Well, we will see. Brexit seems to be headed for a few months' delay and the positive comments regarding US-China trade talks are pushing risk assets higher. But, trade carefully because as we know, markets change pretty quickly.