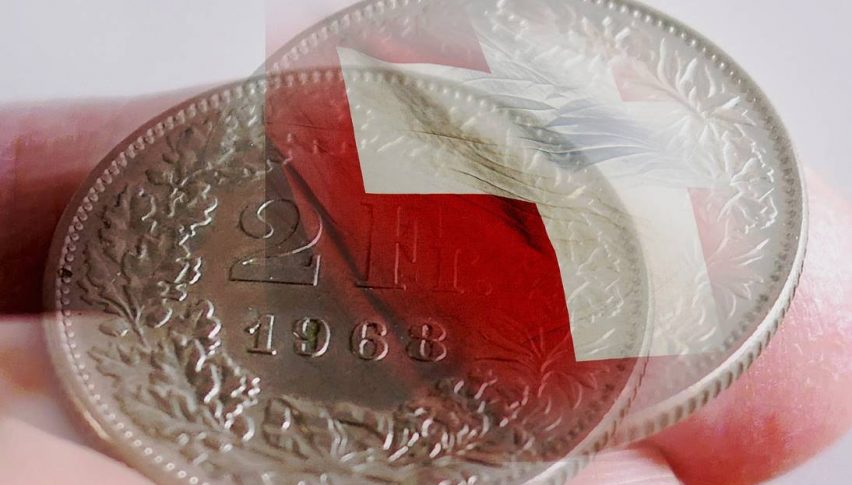 Massive Intraday Range In The Swissie
The appeal of the Swissie has spiked in what has been a chaotic trading session. The fallout from the U.S./North Korea nuclear talks stalling, as well as a surprise U.S. GDP release, have caused strange price action across many markets. Subsequently, safe-haven assets have experienced dramatic intraday swings in value.
Typically, when risk is off, safe-havens rally together. That has not been the case today ― gold is on the bear and the Swissie is posting nice gains vs the Greenback.
A Massive Daily Range In The Swissie
The USD/CHF currently has a mind of its own. An extraordinary 89 pip range has been the order of the day, with rates plunging to a session low of .9926. The price action from 10:00 to 11:00 AM EST is reminiscent of the "flash rally" back on February 11.
During the U.S. overnight, this market fell consistently as traders reacted to the negative news regarding the Trump/Un summit. However, a substantial reversal has followed the U.S. GDP release. At press time (1:00 PM EST), the Swissie is creeping back toward par value.
Bottom Line: Today's crazy action in the USD/CHF is certain to have closed out a large number of long positions. In response, a short trade from just beneath par value isn't a bad way to play this market until Friday's closing bell. For the remainder of the week, I will have sell orders in the queue from .9994. With an initial stop loss at 1.0011, this trade produces a tidy 15 pips on a short-term rejection of par value.