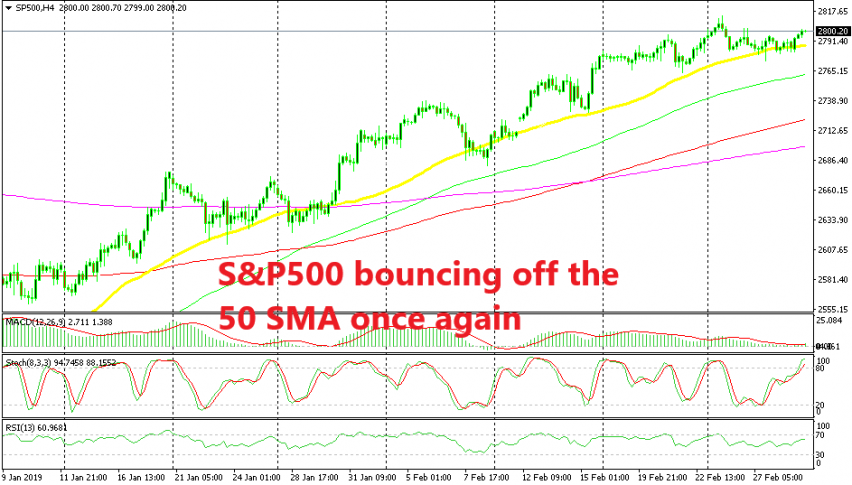 Stock Markets Recuperate Well as Geopolitical Tensions Ease and Sentiment Improves
Yesterday the market sentiment started improving and safe havens felt it the most, with USD/JPY climbing around 80 pips higher as the JPY declined, while GOLD lost $15. Stock markets started reversing higher but the stock buyers were cautious against making any major moves, so the gains weren't too big.
We had two buy signals in S&P500, which we still hold, and in Nikkei, which we closed manually for nearly 100 pips. But, we see that indices have pushed higher today as the sentiment in financial markets improves further and Nikkei is now 200 pips higher from where we left it last night. If you're still holding onto the Nikkei trade, then you must be sitting on a 300 pip profit by now.
Although, we are nearly 100 pips in profit on S&P, and indices still seem to be grinding higher. One of the issues which hurt the sentiment earlier this week was the confrontation between India and Pakistan. Although, Pakistan has confirmed that they will release the Indian pilot which is adding to the positive momentum.
S&P500 found support once again at the 50 SMA on the H4 time-frame as you can see from the chart above. This moving average was pierced several times as it has been shown before in the chart history. But, no candlestick closed below it, so it didn't count as a break and then the reversal higher came. Now let's wait for the bullish trend to resume in full.