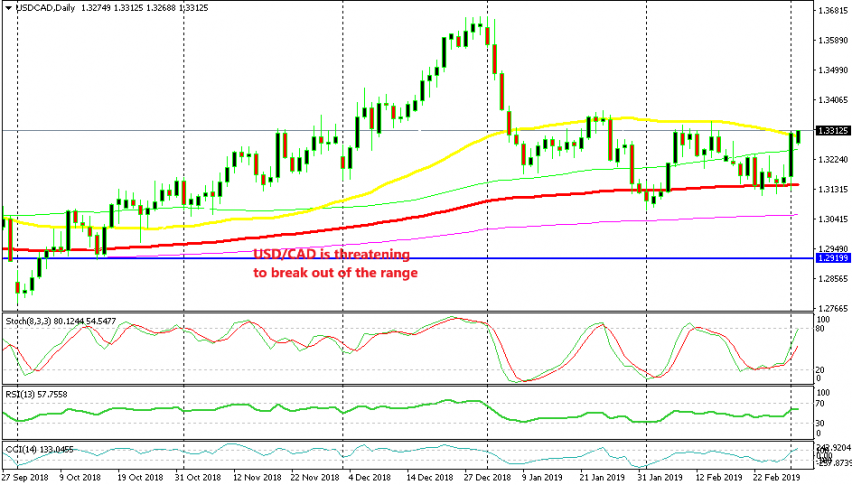 USD/CAD Jumps 180 Pips Off the 100 SMA
USD/CAD has been trading between two moving averages after it made a bearish reversal at the beginning of January. The price declined for around 6 cents in the first week of this year, which seemed like a major trend reversal given the bullish reversal in crude Oil. But, the sellers didn't have enough fuel to continue the downtrend and we have seen USD/CAD bounce up and down between two MAs since then.
At the bottom, we have the 100 SMA (red) which has been providing support. Although, don't expect indicators in such major time-frames such as the daily chart to work exactly to the pip. On the top side. we have the 50 SMA (yellow) which has been providing resistance a few times.
When markets closed last week, we left this pair right at the bottom, trying to break the 100 SMA. This morning, we find USD/CAD around 180 pips higher at the top, trying to break the 50 SMA. The price has moved above the 50 SMA now which seems like a break. That would put this pair back on the bullish trend that we saw last year, but we have to wait a bit longer to see if this is a real break, or just a fake-out.
I'm not sure where this move is coming from because Crude Oil has been bullish today. In fact, commodity Dollars opened with a bullish gap last night after some positive comments on international trade, but the CAD has lost nearly 2 cents.
It could just be a technical move, in which case this would be a good opportunity to sell. But the move has been too strong to go against it. So, I'm not selling USD/CAD here. I think this might actually be a real breakout out of this 200 pip range.