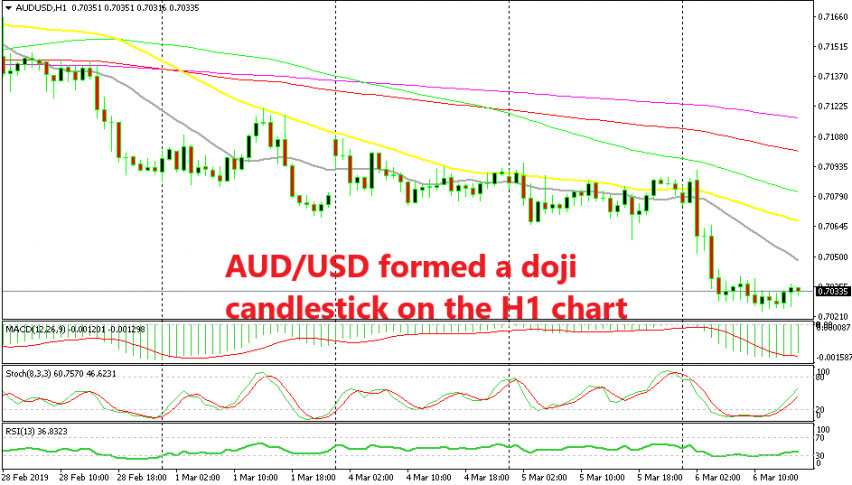 Picking A Spot to Sell AUD/USD As It Tries to Retrace Higher
AUD/USD is slowly retracing higher right now after losing around 70 pips today. Although, I see this as a great opportunity to go short on this pair once the retrace higher is complete; even if it doesn't complete the retrace I am thinking of shorting it nonetheless.
This forex pair turned bearish last Tuesday as the USD reversed the bearish trend and it has been on a bearish trend since then. The trend is strong since smaller period moving averages are providing resistance during pullbacks such as the 50 SMA (yellow), which kept pushing the trend lower in the previous days.
Last night, the bearish trend picked up even more pace as the GDP report from Australia came much lower than expected for Q4 of 2018 at 0.2% against 0.5% expected. That increases the chances of the Reserve Bank of Australia cutting interest rates instead of hiking them.
The retrace in the H1 time-frame chart would be complete at the 20 SMA (grey) which is quickly catching up with the price. By that time, the stochastic indicator will be overbought as well since it is getting near the overbought area in its window, but if this H1 candlestick closes as it is, as a doji, then that would be a strong signal of a bearish reversal. Let's wait a few minutes. OK, I went short on this pair, now let's see how this trade will unfold.