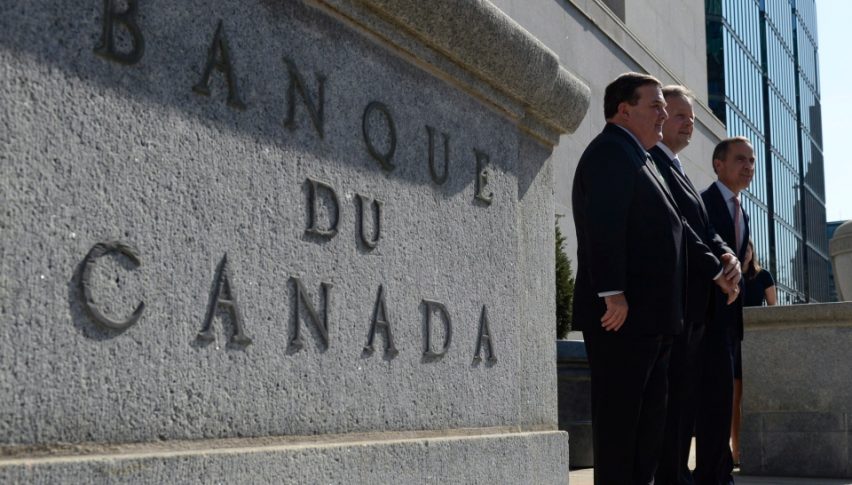 USD/CAD Rallies As Bank of Canada Turns Dovish
The Bank of Canada left interest rates on hold today as expected at 1.75%. They were leaning on the hawkish side regarding rates until the last meeting, but now the odds have shifted and just like the Reserve Bank of Australia, hiking rates seems too far now and instead, the odds for a rate cut are growing. Compare the statements from last month and today's statement and you'll get the idea.
Last Meeting Statement: "Governing Council continues to judge that the policy interest rate will need to rise over time into a neutral range to achieve the inflation target."
Today's Statement: "Governing Council judges that the outlook continues to warrant a policy interest rate that is below its neutral range. Given the mixed picture that the data present, it will take time to gauge the persistence of below-potential growth and the implications for the inflation outlook. With increased uncertainty about the timing of future rate increases, Governing Council will be watching closely developments in household spending, oil markets, and global trade policy."
More Comments Today:
The slowdown in the global economy has been more pronounced and widespread than forecast
Trade tensions and uncertainty are weighing heavily on confidence and economic activity
Slowdown in the fourth quarter was sharper and more broadly based
Says both exports and business investment also fell short of expectations in Q4
it now appears that the economy will be weaker in the first half of 2019 than the Bank projected in January
USD/CAD stretches the uptrend further up
As you can see, the BOC has turned from slightly hawkish to less then neutral today. I would say they sound slightly dovish. This changes the situation for the CAD. The Canadian Dollar has benefited fro the reverse in crude Oil prices but now this changes everything and USD/CAD has surged around 80 pips. I suppose we will shift to bullish on USD/CAD as well, but will wait for a retrace lower first.