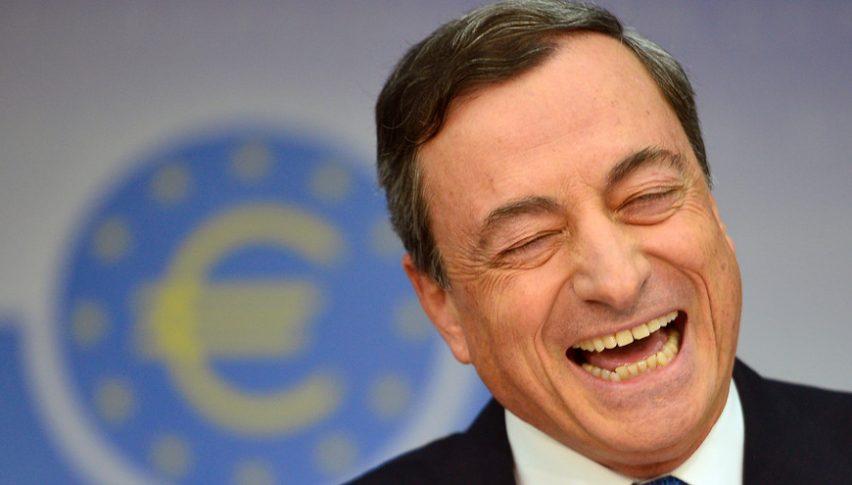 US Session Forex Brief, March 7 – Risk Off Again as Markets Wait for the ECB
The market sentiment has been quite positive this year after the doomsday predictions at the end of 2018 and, as a result, stock markets have been on a 2 month bullish trend. This week though the sentiment has shifted from positive to negative and vice-versa few times as uncertainty increases. Yesterday the sentiment improved for a moment and indices jumped higher, but it shifted again and stock markets declined. Today the decline has continued in indices which means that the sentiment is still negative.
You can observe the shift in the sentiment in USD/JPY. The JPY is a safe haven asset and as such it attracts bids when the sentiment in financial markets turns sour. The risk sentiment has been on and off this week and USD/JPY has traded in a range after the big bullish move last week. The same story you can see in Gold this week as it has also formed a tight range.
One of the reasons for the negative sentiment today is the ECB (European Central Bank) meeting which will commence shortly. The ECB kept the interest rates unchanged, not that anyone was expecting a change there. But, the press conference will be the biggest event where markets will concentrate, especially after the Reserve Bank of Australia and the Bank of Canada turned slightly dovish in the last two days from slightly hawkish, given the recent weakness in respective economies. The Eurozone economy is also experiencing a period of weakness as we have seen from the economic data in the last several months. So, will the ECB turn dovish today as well? That's the big question that everyone is awaiting an answer to.   
European Session
UK Halifax HPI – The Halifax house price index saw a considerable decline of 2.9% in January which was revised lower to -3.0% today. Although, this indicator has turned from positive to negative and vice-versa during the last several months. Today it was expected to turn positive and increase by a mere 0.1% for February, but house prices rose by a massive 5.9% last month, so back on track.
Italian Retail Sales – Retail sales posted a 0.7% decline in December in Italy which was revised a tick higher today to -0.6%. This means that Italians didn't really spend much for Christmas. Today's report was for January and it was expected to show a 0.3% increase, but the actual number came at 0.5%, beating expectations.
Eurozone Final Employment QoQ – Growth in employment declined from 0.4% during Q1 and Q2 of last year in the Eurozone, to 0.2% in Q3. Although, the flash reading for Q4 made a reversal and ticked higher to 0.3%. Expectations for the final reading were unchanged from the flash reading and the actual number came as expected at 0.3%, so let's hope that employment gets back on track in Europe.
Eurozone Revised GDP QoQ – The pace of economic growth in the Eurozone has declined from 0.6% at the end of 2017, to 0.4% in Q1 and Q2 of 2018 and further to just 0.2% in Q3 of last year. The flash reading for Q4 remained unchanged at 0.2% as the previous quarter and today's report which is the final reading also came at 0.2% as expected. The annualized Q4 final GDP ticked lower to +1.1% from +1.2% of the second estimate, which might persuade the ECB to turn dovish today.
EU Is Skeptical That Brexit Deal Can Be Sealed Before 21 March – The EU summit will be on March 21 and they are skeptical about concluding anything before that summit according to Reuters as officials commented. EU is trying to prevent direct negotiations between EU27 leaders and May, the EU is said to have told Cox to rework proposals and return on Friday for talks, since Cox's proposals for a "mini-backstop" is not acceptable.
UK Parliament to Vote on Brexit Deal on Tuesday, 12 March – House of Commons leader, Andrea Leadsom, commented today that the British Parliament will vote on a Brexit deal next Tuesday adding that  they will make business statement on the day if the Brexit vote does not pass.
ECB Accepts Defeat on the Rate Statement – The European Central Bank held the rates unchanged with the refinancing rates unchanged at 0.0% as anticipated, the marginal lending facility unmoved at 0.25% as well as the deposit facility at 0.40%. But, the ECB will start a series of two-year TLTROs in September, the precise terms of which will be communicated in due course. The ECB now sees rates unchanged through the end of 2019. Finally they accepted defeat, right?
The US Session
ECB Press Conference – The ECB accepted that they will keep rates unchanged this year after banging the drums for so long regarding a rate hike this year. But the economy has deteriorated and it seems that they finally gave up. That sent the Euro lower but now we are waiting for Mario Draghi to confirm this. I want to see his face when he admits defeat.
Canadian Building Permits – Building permits turned negative in October declining by 0.2% in Canada, although they turned positive again and in December they posted a massive increase of 6.0% as last month's report showed. But, most of those gains are expected to be erased in January as today's report for that month is expected at -4.9%.
US Revised Unit Labour Costs QoQ – The US labour costs declined by 1.0% in Q2 last year but they turned positive in Q3 increasing by 0.9%, although still below expectations. Today's report for Q4 is expected to show a 1.7% increase which should support the USD since it will mean higher earnings which have been lagging.
US Unemployment Claims – The unemployment claims increased to 253k in the last week of January from 200k in the previous week. Although they have been declining since then, last week's report showed another increase from 216k to 225k. Today's report is expected to remain unchanged at 225k.
The trend has been bearish for more than a week
The 1.13 level is broken
Fundamentals point lower after the ECB statement
1.13 is now history for EUR/USD
EUR/USD has been on a bearish trend since last week but it got stuck around the 1.13 level which has been providing support for some time. That level is now broken after the ECB accepted in the statement released a few minutes ago that they won't be able to hike rates this year at all. Now, this pair is still slipping lower and I expect it to get even more dovish after the press conference from Draghi.
In Conclusion
Things just got interesting while I was typing this forex brief. The ECB won't hike interest/refinancing rates this year and it will start a series of two-year TLTROs in September. The precise terms of TLTROs will be communicated in due course. Euro has turned bearish. Now let's get ready for Draghi's press conference.