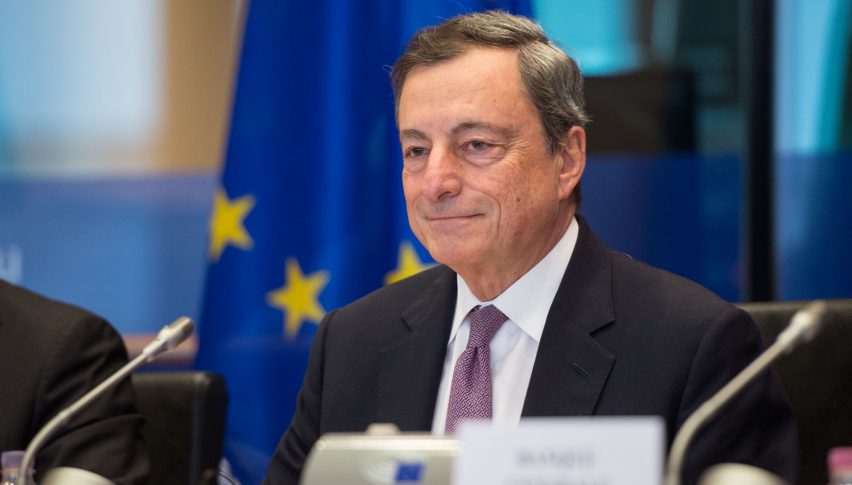 US Session Forex Brief, March 8 – Markets Wait for the US Employment Report After the ECB Carnage Yesterday
Yesterday the European Central Bank accepted defeat after promising to hike interest rates this year and they have been banging that drum for more than a year, despite a weakening Eurozone economy in 2018. But, things went from bad to worse as the economic data has shown in recent months and now the ECB finally accepted that they won't hike rates this year. In fact, they will buy more TLTRO for a two-year period which means a more accomodative monetary policy.
On top of that, they revised the economic and inflation projections lower for this year and next year as well, which turned the sentiment negative in the financial markets. That sent stock markets diving lower yesterday as well as the Euro obviously, which finally broke the long term support above 1.12. Safe havens received some strong bids with Gold climbing around $10 during the Asian session today and USD/JPY declined 80 pips. I even heard today that Commerzbank analysts don't expect a rate hike next year either and they say that the ECB will revise growth lower again.
Although, markets have been pretty quiet in the last few hours as we approach the release of the employment reports from the US and Canada. We have seen some strong employment numbers from the US for December and January as employment increased by more than 300k in those two months. Today though, employment is expected to cool off and come at 180k, but don't rule out another positive surprise. The unemployment rate is expected to decline to 3.9%, but the most important will be the earnings report; although, let's just wait and see when they get released.
European Session
ECB's Villeroy Tries to Cheer Up Markets – The ECB Governing Council Member Villeroy commented early in the morning saying that there is reason to think that economic slowdown is temporary. The Eurozone is in a significant slowdown, not a recession and the ECB wanted to show it can react without overreacting. He closed the speech confirming that France is resisting the slowdown better than Germany, Italy.
German Factory Orders – The factory orders declined in November and December although, the report for December was revised higher in a total reversal, growing by 0.9% against a 1.6% that was initially reported last month. But today's report showed that factory orders declined again in January by 2.6%. Let's hope we see another revision higher next month.
French Industrial Production – Industrial production has been pretty volatile in France in recent months. It has been growing and declining from month to month, although we finally got two positive months now. In December the industrial production grew by 0.8% and today's report for January was expected to show another increase of just 0.1%. But the actual number beat expectations coming at 1.3%.
ECB Nowotny Speaking – The ECB governing council member, Ewald Nowotny said this morning that the latest move was the correct response and it is meant to send expansionary signal. The decision to launch TLTRO needs careful preparation and the details will be decided in June at the latest.
Italian Industrial Production – The industrial production has been declining in Italy as well in November and December, as the last two reports have shown. Although, December was revised slightly higher to -0.7% from -0.8% previously. Today's report which is for January was expected to show a 0.2% increase in production but it came at 1.7% which is a nice reversal, but let's see if it will remain positive in the coming months.
Brexit Commentary – The 27 EU ambassadors have been summoned for Brexit meeting at 14:00 GMT. Chief Bexit negotiator Michel Barnier is said to be briefing EU27 ambassadors later today. The Irish prime minister, Leo Varadkar, commented that the existing withdrawal Brexit agreement is already a compromise. The EU has made a lot of compromises already and the UK has offered nothing for further compromises. Now it is a question of what the UK is willing to offer to the EU rather than the other way around. The UK government spokesman said that there are no current plans for Theresa May to go to Brussels over the weekend, but May will continue to speak to EU leaders over the weekend, She is working incredibly hard for a Brexit deal and Brexit talks are at a critical stage now.
The US Session
Theresa May Speaking on Brexit – May is speaking in Grimby saying that no one knows what will happen if her deal gets rejected, the only certainty would be ongoing uncertainty. UK may never leave the EU if Parliament rejects Brexit deal. Discussions with the EU have been 'difficult and robust'. She continues, starting that EU also has a choice to make on Brexit deal. Now is the time for the UK and EU to act to get to an agreement. It is not in EU's interest for backstop to be permanent. There just needs to be one more push to address concerns of the UK parliament. A Brexit delay could lead to EU insisting on new conditions. A Brexit delay could also lead to a second referendum
Canadian Employment Report – The employment report from Canada will be released shortly. The unemployment rate is expected to remain unchanged at 5.8% after jumping two points last month and the employment change is expected to increase by only 0.6k after a 66.8k increase in the previous month
US Employment Report – The US unemployment rate is expected to tick lower to 3.9% today after having increased from 3.7% to 3.9% in the last two months. Although the non-farm employment change is expected to fall to 180k after two really strong months with numbers above 300k.
US Average Hourly Earnings – The US average hourly earnings jumped by 0.4% in December but that might have been skewed by year-end bonuses because it fell back to 0.1% in January. This month's report which is for February is expected to show another increase by 0.3%.
The trend has been bearish for more than three weeks
Moving averages are providing resistance
Fundamentals point lower after the ECB statement
Let's see how strong a resistance the 20 and 50 SMAs will provide
A while ago we opened a sell signal in EUR/GBP. This pair has been on a bearish trend for three weeks and yesterday it made another bearish move after the ECB turned from slightly hawkish to dovish. But we have been seeing a retrace higher today; the retrace is compete on the H1 chart and on the H4 chart above we have the 20 SMA (grey) and the 50 SMA (yellow) where the price is right now. The 50 SMA has been pierced before this week but the price has returned back below it, so let's see how this pair reacts now.
In Conclusion
The markets are still hungover from yesterday's price action following the ECB decision to postpone the rate hike and add more TLTRO. But, the last few hours have been pretty quiet as we approach the release of the US employment and earnings reports which will be out in a minute, so let's get this posted and concentrate on that event now.