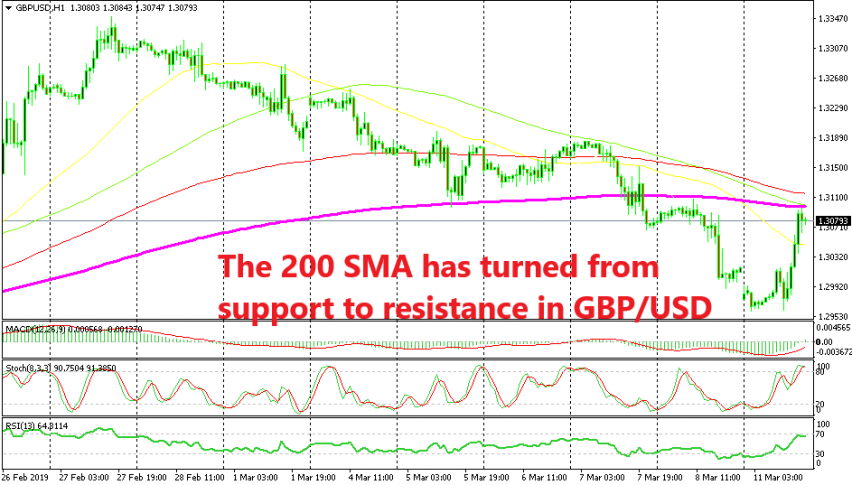 The Climb in GBP/USD Stops at the 200 SMA
The Bexit saga keep rolling as we approach the time when the British Parliament votes Theresa May's Brexit deal for the second time. They rejected her first deal and she went back to the EU to make amendments, especially push for assurance on the Irish Backstop but she didn't get that.
Now, May is going back to the British Parliament to ask for another vote, even though whatever changes she made to the deal are just cosmetic. The chances are that she will lose the vote once again, although we heard early this morning that this might be a provisional vote.
This means that if the vote passed, May would go back to the EU to ask for more concessions and then go back to the UK and ask the Parliament for the final meaningful vote. The GBP declined on those rumours since that would mean more uncertainty for the business.
But, May spokesman said that tomorrow will be the "meaningful" vote and the GBP rallied. GBP/USD surged for more than 130 pips but it ran into the 200 SMA (purple) on the H1 chart. This moving average provided support on the way down last week but it turned into resistance on Friday and it capped the move again today. This could be a good place to go short if you have the nerves because I don't; this sort of price action has become too risky to trade but it's up to you if you want to pull a sell trade from the 200 SMA.
Update: The price has just broken above it which invalidates this trade opportunity, but it was a nice idea.