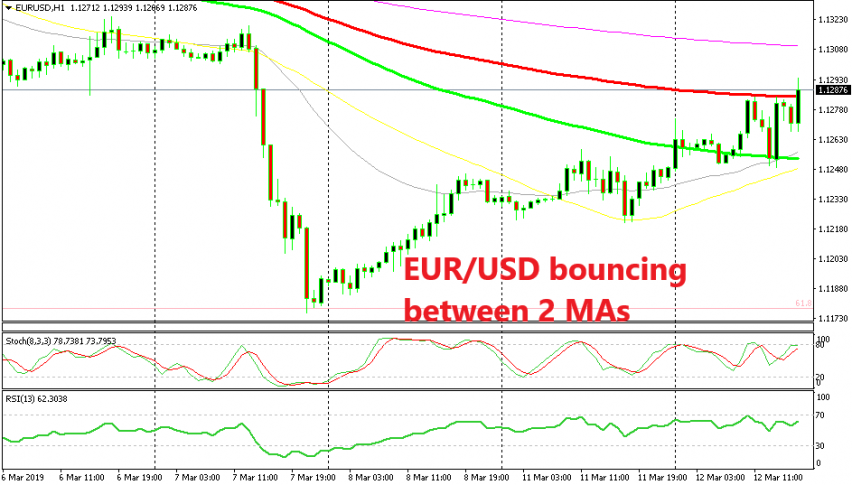 EUR/USD has climbed higher in the last three day
EUR/USD has climbed higher in the last three days despite the dovish reversal from the European Central Bank. Although, this seems more of a USD move because the Buck has been declining against commodity currencies as well. The Brexit vote today is another issue which is messing with markets, hence the strange price action in financial markets lately.
Otherwise, EUR/USD should have been bearish. Anyway, this pair broke above three moving averages yesterday on the H1 chart, but the buyers are having difficulties pushing above the 100 smooth moving average (red). they had a go at this moving average in the European session this morning but failed to take it out.
The price bounced back down from it losing 40 pips, but the sellers couldn't break the other 100 SMA (green), the simple one. It seems like the 100 simple MA turned into support now and EUR/USD bounced off this moving average. So, looks like the 100 simple MA has now turned into support.
The price is now trading between these two moving averages. Although, the buyers are having another go at the 100 SMA at the top. The price has now moved above this moving average, but the break is not complete until the candlestick closes above it, so let's see if the buyers will keep the price above until then.
Update: well, it appears that buyers couldn't hold on to gains and EUR/USD has slipped back below the 100 SMA in red.
Yesterday the CPI numbers from European countries showed a slowdown, so today's headline Eurozone inflation numbers should be soft as well
18 hours ago