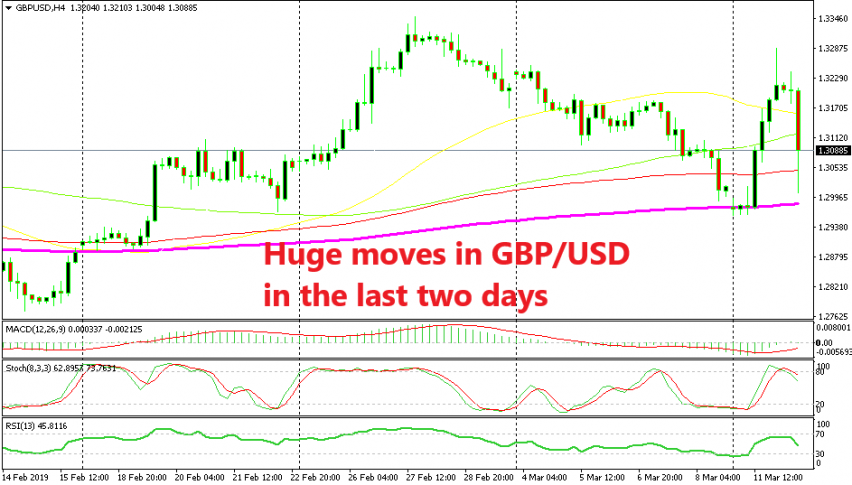 GBP Moves Hundreds of Pips Up And Down
We are approaching the meaningful Brexit vote which will take place in the British Parliament later in the evening. GBP/USD has been trending down in the last week and a half but it found support at the 200 SMA (purple) on the H4 chart yesterday and it bounced more than 300 pips higher.
Today we are seeing a reversal and this pair lost nearly 300 pips from top to bottom. UK Attorney General Cox made an appearance in the UK Parliament earlier on and the lawmakers were waiting for his legal advice. Here are some of the comments he made:
Legal risk remains unchanged that UK would have no lawful means of exiting arrangement
May's assurances reduce the risk of UK being indefinitely trapped within backstop
Joint instrument is legally binding as a document
Says that the clarifications provide a substantive and binding reinforcement to the legal rights available to the UK
The first comment is the most important since it touches exactly what the Parliament was waiting for. It basically says that the UK has no legal right to exit the EU properly with the current Brexit deal. That means that this deal is dead before going to the vote later today, hence the dive in GBP pairs.
The DUP Party of Northern Ireland said that they won't back the deal after hearing Cox's legal advice on it. The EU has said that this is the last chance for a deal, so it seems like the UK will end up with no deal now. The GBP is really difficult to trade right now, so be careful out there.