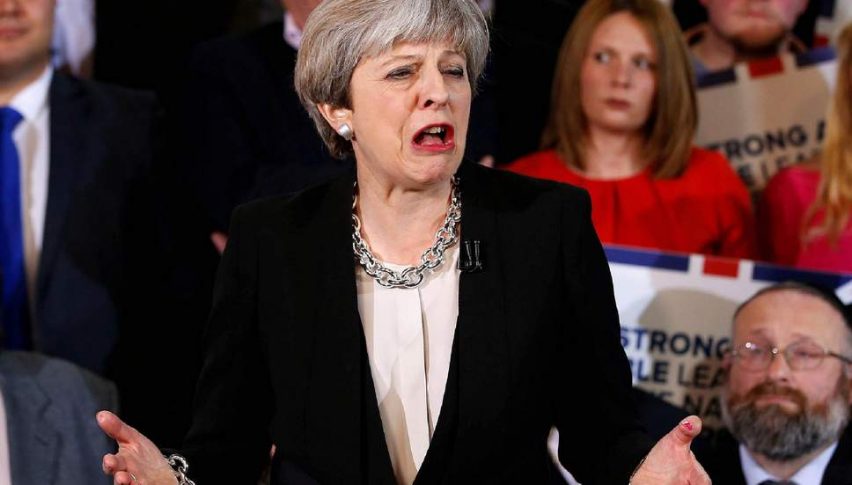 US Session Forex Brief, March 12 – A Positive Round of Data from Britain Ahead of the Brexit Vote
Today is the big day we all have been waiting for. The "meaningful" Brexit vote will be held later in the evening in the British Parliament after discussions have exhausted all scenarios for the future. Yesterday we heard that this might be a "provisional" vote which Theresa May could take to the EU once again and try to get some more concessions. But, May rejected that idea yesterday and went for the meaningful vote, which will be the last one, as EU officials suggested today. European Commission president, Jean-Claude Juncker, said that Britain gets a second chance today and there won't be a third, so this is it.
Lawmakers in the British Parliament were waiting for legal advice from the UK Attorney General Cox who made a presence earlier on. Cox's main comment was: "legal risk remains unchanged that UK would have no lawful means of exiting arrangement" meaning that the UK might be trapped in the backstop and the customs union indefinitely. This is what everyone was waiting to hear and it is almost certain that the Brexit deal won't pass the meaningful vote. Hence the decline in GBP/USD this morning which was nearly 300 pips.
We also had some important economic reports being released from the UK today as well as from US. The GDP declined by 0.4% in December, but was expected to turn positive in January again. It showed that the economy expanded by 0.5%, manufacturing and industrial production also came above expectations, while construction output jumped 2.8% higher. The inflation report from the US was released later and it showed a bit of weakness in core CPI in February.
European Session
French Final Private Payrolls QoQ – The pace of growth of private payrolls was on a slowing trend last year, declining from 0.4% in Q1 of 2018 to just 0.1% in Q3. Today's report was for Q4 of last year and it was expected to remain unchanged at 0.1%, but instead, it made a reversal and increased to 0.3%. probably this is the beginning of the turnaround for the French economy.
UK GDP – Economic growth has been slowing considerably in Britain as we head towards the end of Brexit and in December last year we saw a 0.4% decline. Today's report for January was expected to show a turnaround and a 0.2% increase, but the economy had grown more than expected by 0.5% that month. The quarterly GDP report came at 0.2% as expected.
UK Manufacturing Production – Manufacturing production has been declining in five out of the last six months in Britain and in December it shrank by 0.7%. Today's report was expected to show a 0.2% for January but the actual number beat expectations, coming at 0.8%.
UK Construction Output – Construction output has been pretty volatile in the last several months in Britain. It declined by 2.8% last December but was expected to have increased by 0.9% in January. Although, this indicator also beat expectations, showing a 2.8% increase that month, which eliminates the losses from December.
UK Industrial Production – The industrial sector has also been weakening in the UK with industrial production declining by 0.5% on average from October until December last year. Although, it was expected to increase by 0.2% in January, but industrial production grew further by 0.6% that month. If not for Brexit, chances are that the UK economy wold be in a great shape.
US Inflation – The headline CPI inflation has been pretty weak from November to January but it increased by 0.2% as expected in February. Core consumer price index, on the other hand, used to be steady, growing by 0.2% on a monthly basis in the last several months, although it cooled off in February to just 0.1%. Year-on-Year CPI inflation ticked lower, coming at +1.5% against +1.6% previously and core CPI YoY which excludes food and energy also ticked lower to +2.1% against +2.2% expected.
The US Session
DUP Cannot Support Revised Deal – The DUP Party of Northern Ireland commented earlier that after Cox's legal advice, they cannot support the deal. That was reinforced again a while ago on Sky news. The ERG said they would follow the DUP and they repeated that they cannot support Theresa May on today's vote. So, the deal is dead, but the question is what comes next?
May Threatens With No Brexit If Deal Doesn't Pass – Theresa May commented a few minutes ago saying that if the deal is rejected then Brexit could be lost. She added that it is absolutely imperative that we deliver Brexit and the improved deal deserves the support of all lawmakers. These sound like desperate comments.
Lighthizer Speaking on Global Trade Issues – US Trade Representative Robert Lighthizer commented earlier on today saying that unreasonable for China, India, Turkey and South Korea to be 'developing countries' under World Trade Organisation. The WTO is a valuable institution but it is not working as expected with the appellate body failing to follow 'basic, critical rules of operation' agreed by members. The US is working to negotiate new rules and has highlighted problems of unequal bound tariff rates, market access and lack of subsidy notification.
Meaningful Brexit Vote – The vote will begin at 19:00 GMT. With what we have seen in the last week or so, Theresa May will suffer another loss which could be even bigger this time. She tried to make some last minute changes but that won't save her. The Parliament speaker has not selected any amendments to be put to a vote, so the vote should be shortly after 1900 GMT.
The main trend is still bullish
The retrace lower today is complete
The 200 SMA is providing support
Previous candlestick points to a reversal higher

Let's see how strong a resistance the 20 and 50 SMAs will provide
USD/JPY retraced lower last week on larger time-frames but the 200 SMA which had provided support on the H4 chart before did so again and pushed the price higher. Yesterday we saw a slight bullish move in this pair but during the European session we saw another retrace lower today. But, the 200 SMA (purple) provided support on the H1 chart as well and the price formed a hammer candlestick which is a reversing signal. Stochastic is also oversold now which means that the retrace lower is complete.
In Conclusion
Off we head to the final Brexit vote. Theresa May is set to lose badly this evening as more and more MPs are thinking about life after Theresa May. But that raises the question on what will come next. Could there be a general election or another Brexit referendum? That seems like the case but things are too complicated right now, so let's see what happens today and then make plans for the future.