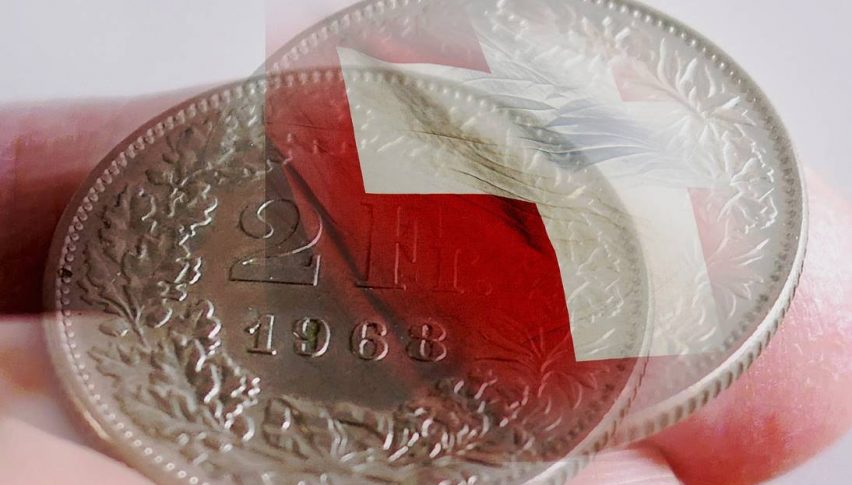 USD/CHF Tests 62% Retracement
The USD is flailing to open the forex week, with values coming in mixed across the majors. It is always a challenge for the Greenback to hold market share ahead of a FED announcement. Today's action backs up this point, with the USD posting losses against the Euro and gains vs the Canadian dollar and British pound. In addition, the USD/CHF is off slightly, testing par value.
Aside from auctions of the U.S. 3 and 6 month T-bills, the economic calendar is wide open. Unless a surprise news item hits the wires, the remainder of the forex session is set up to be a quiet one.
USD/CHF Technicals
In a Live Market Update from last Thursday, I issued a long trade recommendation in the USD/CHF. This trade has gone live, with rates hanging in the green above 1.0000.
Here are the levels to watch in this pair for the rest of the U.S. session:
Resistance(1): Bollinger MP, 1.0033

Support(1): 62% Retracement, 1.0002
Overview: At press time, the 62% Retracement (1.0002) is holding firm as downside support. In the event this level proves valid, a return to topside resistance above 1.0030 is probable for the near future.
During the coming U.S. overnight session, Switzerland is due to release its Trade Balance (Jan) report to the public. Analysts expect the figure to come in at 2,880M, down from last December's release of 3,043M. In the event that the Swiss Trade Balance disappoints, the USD may be in a position to rally vs the CHF. If you are active in the USD/CHF, be sure to pay attention to this figure and be ready for any potential fallout.