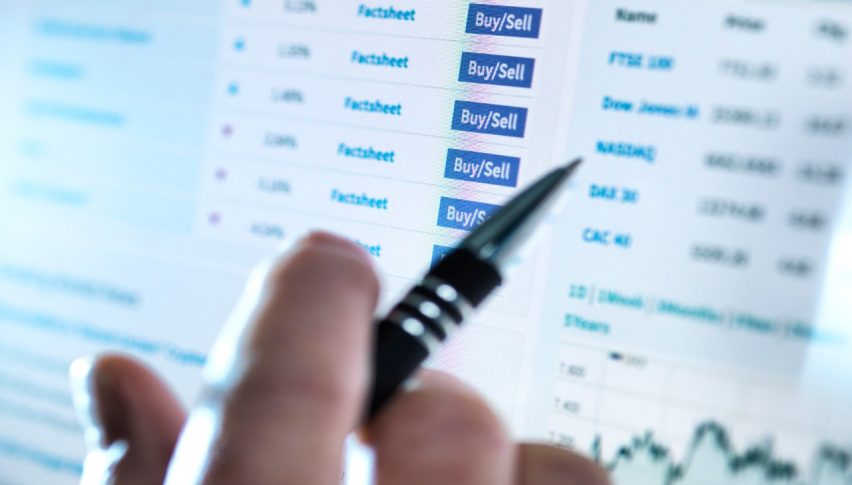 Nothing Left to Buy in Forex
In recent weeks there have been some fundamental developments in the financial markets which have led to confusion, but we have seen some decent moves nonetheless. Currencies have changed direction pretty quickly, making a large move in one direction, giving the impression that a trend had formed, only to reverse completely in the following sessions and form another trend. We tried to go long and short on some assets, but at the end of the week, it seems like there's nothing left to go long on.
Fundamentals have deteriorated and now it's just too risky to go long on anything. Someone could say that you can go short if not long, but you have to go short against something else, meaning you have to buy the opposite asset. Say, if you want to go long on Oil, you do so by going short against the USD since Oil, or Gold, are traded on USD. With forex pairs the example is more easily understandable.
CAD
The Bank of Canada turned dovish at the beginning of the year. That should be enough to turn Canadian Dollar bearish and the CAD did lose around 100 pips that day. But they did so with strong reason. Economic data has been showing a considerable slowdown in the economy; the GDP has been declining in three out of the last four months of last year in Canada, manufacturing sales figures released in the last six months have shown a decline in four out of the last six reports, while retail sales have declined in the period from November to January, as the last three report have shown.
AUD/NZD
The Reserve Bank of Australia also turned dovish from neutral and their decision was justified too. We have seen some weak economic numbers from Australia and New Zealand recently and GDP growth slowed considerably in the last quarters of 2018 and it is expected to get weaker in this quarter. The tensions between China and Australia keep being pushed with China closing ports for Australian coal. Iron ore prices made a quick bearish reversal this week which hurt the Australian Dollar, so the fundamentals are pointing down for the commodity currencies.
Euro
The Euro has all reasons to turn massively bearish and remain so for quite a long time. The economy of the Eurozone has weakened pretty fast and is headed towards stagnation. Italian economy is already in stagnation officially after having contracted in the last two quarters. The manufacturing sector has fallen into contraction and the figures released this week showed a deeper and faster contraction of the German and Eurozone manufacturing sectors. Donald Trump also repeated this week that European car manufacturers should build production plants in the US if they don't want tariffs, meaning that we will see tariffs soon. On top of that, Brexit will likely have a negative impact as well, although much lighter than in the UK.
Technically, EUR/USD has been gaining unreasonably in the last two weeks as the European Central Bank became the fourth major central bank to turn dovish, which is another reason for the Euro to be bullish. This pair kept climbing for the last two weeks without a reason, but it turned bearish pretty quickly at the end of this week and now the picture looks heavily bearish for EUR/USD.
GBP
Speaking of Brexit, this process has become a total mess. Article 50 will be postponed yet another time but no one knows how this will end. All scenarios are possible right now, be it hard Brexit, Theresa May passing her deal, new government, new elections, new referendum, etc., and the uncertainty keep being dragged further along the way with each extension. Although we saw some decent economic figures from Britain this week, the GBP will follow Brexit and we have seen some increased volatility recently which are unpredictable and difficult to trade.
Stock markets
Stock markets have also turned pretty bearish this week. They had a decent pullback lower at the beginning of this month as the sentiment turned negative on geopolitics. But they recuperated well last week. This week though, the sentiment turned massively negative in financial markets again on weaker economic figures across the globe. The GDP and inflation growth downgrade from these central banks also hurt the sentiment and stock markets turned bearish once again. We tried to pick a bottom on the German [[DAX30]] but got stopped on that trade as stock markets continued to decline. They had been bullish for quite some time since the big reversal at the end of December, so they are overbought on larger time-frame charts such as daily and weekly. Even a technical pullback on these charts is on the cards. Therefore, it's dangerous going long on them now.
USD
The USD was the only game in town if anyone wanted to buy and economically, it still is. The US economy has slowed down somewhat recently in recent months but it is still in a good shape and a long way from most of the developed global economies which are at a crossroad at the moment. But, the FED also turned dovish this week, making it the fourth major central bank to do so and the USD lost 100 pips that Wednesday. We tried to be long on the USD last week and during the first half of this one, but the USD got beaten up pretty bad. Tings got worse after the FED on Wednesday, so the Buck is not safe either.
I could go on, but the situation is the same. The JPY made some decent gains this week as the sentiment turned negative, but the JPY doesn't have any fundamental reason too keep appreciating. Only in the extreme situation when the sentiment goes in panic mode could the JPY surge hundreds of pips as safe havens attract more bids, but something has to happen for that scenario to take place.
Even Gold hasn't shown much will to go higher. It made a quick bearish reversal several weeks ago and although it has been climbing in the last three weeks, the climb has been too slow and Gold hasn't recuperated the losses from that bearish week, even though market sentiment turned really negative this week. To conclude, everything is very risky to buy right now, so just trade short term charts until things become more clear.