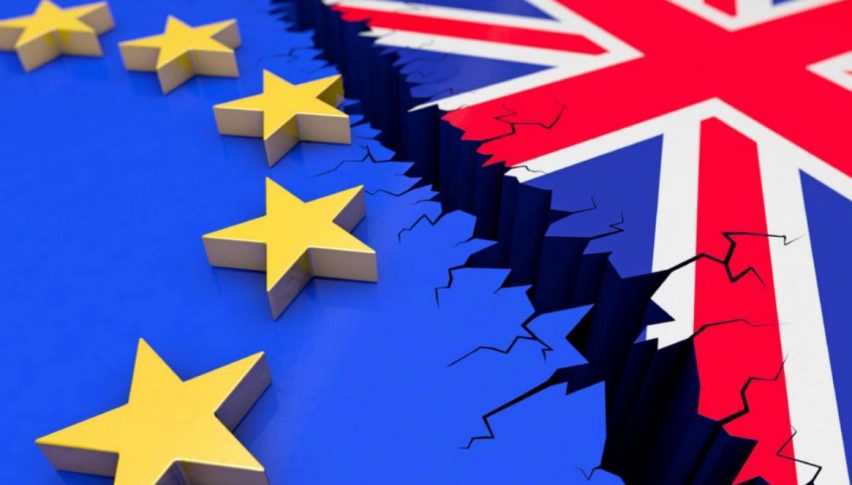 US Session Forex Brief, March 29 – Risk Sentiment Improves as Theresa May Gathers More MPs to Support Her Brexit Deal
The market sentiment turned quite negative last week and this week markets were trying to make their minds up whether to remain negative and bearish or the sentiment could turn positive and the markets would turn bullish. Although, the negativity mostly prevailed this week as risk currencies kept declining. Today markets seem to have made their minds up as they have turned bullish with stock markets making new highs for the week; that can be observed in DAX30 which broke above the resistance at 11,500 points.
The UK GDP report was the main data release this morning and it remained unchanged for Q4 of 2018 at 0.2%. Business investment remained negative for last year but the decline was revised lower today. But the GBP only started moving today after news that Theresa May is gathering enough MPs to challenge the opposition to her deal. She's still about 20 votes down as per media reports, but it is enough to turn the sentiment around on hopes that she might make it this time and get her deal past the British Parliament.
The Canadian GDP report was also on the schedule today. The GDP turned around in January, making a 0.3% expansion. The YoY GDP was also revised higher to 1.6% and almost all sectors of the economy were up that month which improved the sentiment further in financial markets.
European Session
German Retail Sales – Last month's report showed that retail sales made quite a reversal in January and jumped 3.3% higher in Germany after the 4.3% decline in December. Although, January's number was revised lower to 2.8% today. In February, we were expecting a 1.0% decline but today's report showed a 0.9% increase that month.
UK Nationwide HPI – The house prices have been volatile in recent months in the UK as this indicator has shown. The figure declined by 0.7% in December, increased by 0.3% in January but turned negative again in February declining by 0.1%. Last month's number was revised higher to 0.0% which was what was expected for this month too. But today's report showed a 0.2% increase this month, beating expectations.
French Consumer Spending – Consumer spending has been pretty volatile in France as well. In the last five months we have seen three negative readings and two positive ones. Today's report which was for February was expected to show a 0.2% increase in spending, but instead, consumer spending declined by 0.4% in France, so the troubled times are not yet over there.
French CPI – Consumer price index inflation has been quite weak in France, coming flat in two out of the last four months and declining in the other two months. This month though inflation was expected to make a turnaround and increase by 0.9%. The actual number missed expectations slightly coming at 0.8% but that's still a decent number considering the previous months.
UK Q4 2018 GDP Report – The final GDP reading from Britain remained unchanged as the prelim reading at 0.2%. Year-on-Year final GDP ticks higher to 1.4% from 1.3% in the prelim reading. Q4 total business investment moves higher to -0.9% vs -1.4% prelim, but as you can see, it remains in negative territory. Year-on-Year total business investment was also revised higher to -2.5% vs -3.7% prelim. The current account deficit for Q4 of 2018 declines from the previous month but it still missed expectations coming at -£23.7B against -£22.9B. But it's smaller than the Q3 deficit which stood at -£26.5B. Mortgage approvals decline to 64k in February against 65k expected and down from 67k in January. Slightly better revisions for investment, but GDP growth falls to the lowest since Q1 last year.
The US Session
Canadian GDP – Canadian GDP makes a reversal in January growing by 0.3% after declining in three out of the previous four months and against 0.1% expected. The Q4 of 2018 annualized GDP comes at 0.4%. RPI MoM which represents the price of raw materials purchased by manufacturers jumped 4.6% higher in February beating expectations of 1.2%. Annualized GDP for last year comes higher at 1.6% against 1.3% previous. Goods producing sector up by 0.6%. Services producing sector up by 0.2%. Manufacturing is up by 1.5% which more than makes up for the declines of the previous two months. The CAD surged on the positive numbers with USD/CAD being 80 pips lower now.
US Core PCE Price Index – The US core price index has been growing by 0.1% on an average in the last several months but ticked higher to 0.2% in January. Today's report which is for February was expected to show the same growth but it missed expectations coming at 0.1% instead.
US Personal Income – The personal income has been volatile in the US since the last quarter of 2018. In January the income declined by 0.1% but it was expected to reverse in February and grow by 0.3%. It did make a reversal and increased, but only by 0.2%, missing expectations which hurt the USD and the sentiment in markets for a moment.
US Personal Spending – Personal spending declined by 0.5% in January which was revised lower to -0.6% today. For February, spending was expected to increase by 0.3% but missed expectations coming at 0.1% instead which was another factor for the short-lived USD selloff.
US Chicago PMI – The Chicago PMI made a surprising jump last month as it moved to 64.7 points from 56.7 points in January. This month, the Chicago PMI indicator was expected to cool off to 61.1 points, but it cooled off more than expected, coming at 58.7 points, which is a really decent level nonetheless.
US Revised UoM Consumer Sentiment – The consumer sentiment used to be in a declining trend but it made a reversal last month climbing to 93.8 points from 91.1 previously. Today, the consumer sentiment was expected to grow to 97.8 points but it beat expectations coming at 98.4 point which is a positive sign, showing that US consumer is getting more confident after the Winter period softness.
The trend has turned bearish
Sentiment is helping the CHF
The 50 SMA is pushing this pair lower
The Euro is on a downtrend
EUR/CHF can't push above the 50 hourly SMA
The situation is pretty much unchanged from yesterday. EUR/CHF turned bearish last week as the sentiment turned negative and, as a safe haven, the CHF attracted some strong bids together with the JPY. Since then, the trend has remained bearish and the 50 SMA (yellow) is defining it, as it keeps pushing the price lower. Earlier on EUR/CHF was retracing higher but the 50 SMA provided resistance again, so we decided to go short on this pair.
In Conclusion
Th Canadian economic data earlier on was quite positive, but the US price index and personal spending and income were weaker than expected which sent the USD 20 pips lower. Although, the next round of data which included the UoM consumer sentiment and new home sales came better than expectations so the USD turned bullish again. Although, we are heading towards the end of the week so don't expect much now, especially since the third and most likely final Brexit vote will take place in the evening.