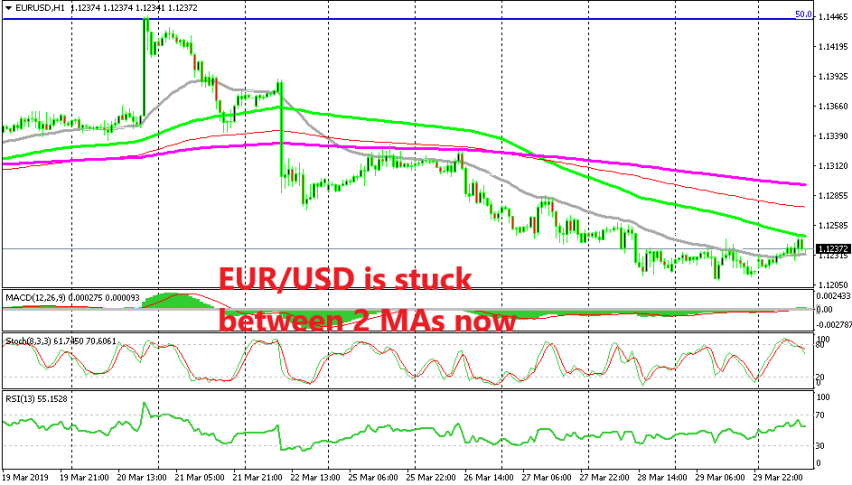 EUR/USD Breaks Above the 20 SMA Despite Weaker Economic Numbers, but..
The manufacturing reports from the Eurozone this morning reinforced the idea that this sector is in trouble. The German manufacturing PMI dipped to 44.7 points for March when the first reading was released two weeks ago and it was revised lower today to 44.1 points. The story was the same for France, Italy and the whole of the Eurozone as last month's numbers were revised lower, apart from Spain.
The inflation report was released a bit later and it was yet another weak reading. The headline CPI inflation missed expectations of 1.5% and ticked lower to 1.4%, resuming the declining trend after pausing in February. Core CPI inflation also missed expectations of 0.9% and fell to 0.8% YoY, from 1.0% previously.
The ECB has been trying to convince us that they're on track to reach the inflation target but these numbers don't leave room for speculation. But, after today's inflation numbers, the ECB can't hide its head in the sand anymore. Nonetheless, EUR/USD kept climbing higher today since the markets opened.
EUR/USD broke above the 20 SMA (grey) which has been providing resistance during most of last week on the hourly chart. But, it seems that the 100 SMA (green) turned into resistance for this pair and the price has reversed from there. But now, the 20 SMA is providing support.
We are short on EUR/USD since last Friday, therefore hoping that the 20 SMA breaks and the downtrend resumes, but the market sentiment has been positive today which is driving markets, as you can observe from the surge in stock markets. We're waiting now for the sentiment to turn negative again.