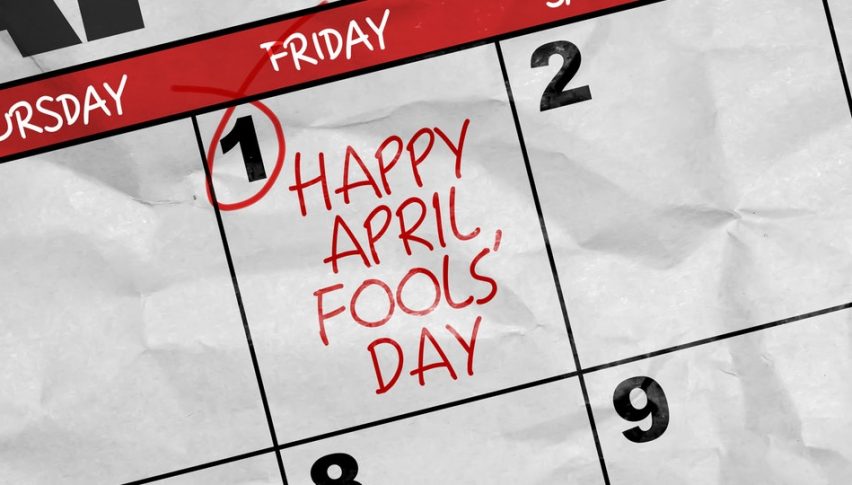 US Session Forex Brief, April 1 – Markets Trying to Fool Us on Fools Day
Today is April 1 which means Fools Day and it seems like markets are playing the fools game with us today. EUR/USD has turned bullish today which doesn't seem right since the economic data from the Eurozone today was horrible once again. The final reading of the manufacturing PMI reports for Germany, France and the Eurozone dipped even lower than the prelim reading two weeks ago which sent the Euro tumbling. This reinforced the idea that the Eurozone economy, and particularly the manufacturing sector, is heading towards the abyss.
On top of that, the inflation report released later this morning was pretty disappointing too. Headline CPI (consumer price index) number ticked lower to 1.4% from 1.5% previously while core CPI lost two points, falling to 0.8% from 1.0% last month. If you remember, the Euro turned massively bearish two weeks ago when the prelim manufacturing readings were released, but it has been climbing higher today, talk about Fools Day.
GBP/USD has also climbed around 100 pips higher as well today despite the failed Brexit vote on the British Parliament last Friday which was the third time that Theresa May lost. But, the UK manufacturing PMI jumped higher this morning which gave the GBP buyers a reason to go long, although the details of that report weren't so positive. The US retail sales report which was released about an hour ago, showed another decline in sales for February, but January's revisions took some of the heat off for the USD.
European Session
Swiss Retail Sales – Retail sales have been pretty volatile in Switzerland during most of last year, but they turned negative in November and have been negative during the last several months. Today's report was for February and sales were expected to make a reversal and increase by 0.3%, but they missed expectations once again today, coming at -0.2%. So, the SNB is right to remain ready to intervene in forex.
Spanish Manufacturing PMI – The Eurozone manufacturing sector has been going down the drain recently as the numbers suggest, but this sector is just holding on in Spain. In February, manufacturing fell in contraction in Spain for a brief moment, and the PMI indicator was expected to tick lower today to 49.8 points. But it beat expectations coming at 50.9 points which means that this sector is diverging from the rest of the Eurozone manufacturing.
French Manufacturing PMI – Manufacturing fell into contraction in France as well in February at the PMI indicator declined to 49.8 points. Today's report wasn't expected to show any change for March but the actual number ticked lower to 49.7 points, which means that this sector is still deteriorating in France.
Italian Manufacturing PMI – Manufacturing has been in contraction in Italy for several months since October last year. In February, the PMI indicator fell to 47.7 points and today's report was expected to tick lower still to 47.6 points. It missed expectations and ticked three points lower, coming t 47.4 points.
German Manufacturing PMI – German manufacturing was the best performing among the major European countries until late last year but it has been getting really weak pretty fast in the last few months. The prelim reading for February which was released a couple of weeks ago showed a steep decline as the PMi indicator fell to 44.7 points. Today's final reading was expected to remain unchanged but it was revised lower to 44.1 points, showing the deteriorating trend.
UK Manufacturing PMI – British manufacturing has also been weakening considerably recently, falling to 52 points in February which was revised higher today to 52.1 points. Today's number which was for March was expected to show a further cool-off at 51.2 points, but it jumped higher unexpectedly to 55.1 points. That's a major increase and turnaround, but the details show that the increase was mostly due to stockpiling as Brexit increases uncertainty for British manufacturers.
Eurozone CPI Inflation – The consumer price index inflation has been declining considerably in the Eurozone in recent months, although it paused for a month in February. But, that wasn't meant to last as today we saw another decline which confirms the declining trend. Headline CPI was expected to remain unchanged at 1.5% but ticked lower to 1.4%; core CPI was expected to tick lower to 0.9% from 1.0% but lost two points falling to 0.8%. The ECB shouldn't be too confident in sustainable inflation either now.
Eurozone Unemployment Rate – The unemployment rate has been declining in the Eurozone and the decline has been steady. Although, today's report which is for February was expected to remain unchanged at 7.8% and that's how the actual number came.
The US Session
US Retail Sales – Retail sales declined by 0.2% in February while the decline in core retail sales was even bigger at -0.4%. That's a long way off the 0.3% and 0.4% increase respectively. Although, there were some really decent revisions for January. Retail sales were revised higher to 0.7% for that month from 0.2%. Core retail sales were revised even higher to 1.4% from 0.9% previously. Retail sales excluding autos and gas comes at -0.6% for February against +0.3% expected but January's sales excluding autos and gas war revised higher to +1.7% from +1.2% previously. Negative numbers for February but January's revisions make the picture look brighter than the headline figures.
UK Manufacturing PMI – Manufacturing has also been declining in Canada recently. In February the PMI indicator fell to 52.6 point while today's report showed that this sector declined to 50.5 points in March, which is pretty close to contraction. That's the lowest since August 2016.
US ISM Manufacturing PMI – The US manufacturing report was released a while ago and it showed an increase in March to 55.3 points from 54.2 points in February. Manufacturing has been sort of volatile in recent month in the US but it is hanging around the 55 PMI level which is quite a good place to be and today's number confirms it. Employment came at 57.5 points against 52.3 expected which is a sizable jump, new orders also increased to 57.4 points from 55.5 prior while prices paid decreased last time but they jumped to 54.3 points today against 49.4 previously. A nice manufacturing report from the US today, particularly the details.
The trend has been bearish for two weeks
The 100 SMA provided resistance
The retrace higher is complete
EUR/USD remains on a downtrend
We sold this pair last Friday as it was retracing higher and finding resistance at the 20 SMA (grey) which had been providing resistance for about a week. The 20 SMA was broken today but the 100 SMA (green) turned into resistance this time around and it killed the retrace higher. The US manufacturing report that was released just now was quite impressive, which gave this pair a push lower, so the picture seems bearish now.
In Conclusion
The manufacturing reports have been pretty volatile today; the Chinese manufacturing made a turnaround and came out of contraction which has improved the sentiment today, the UK manufacturing PMI jumped higher and the US manufacturing report that was released just now showed an improvement. But, the Eurozone manufacturing continues to deteriorate as does the Canadian manufacturing, so it has been a mixed day for manufacturing.