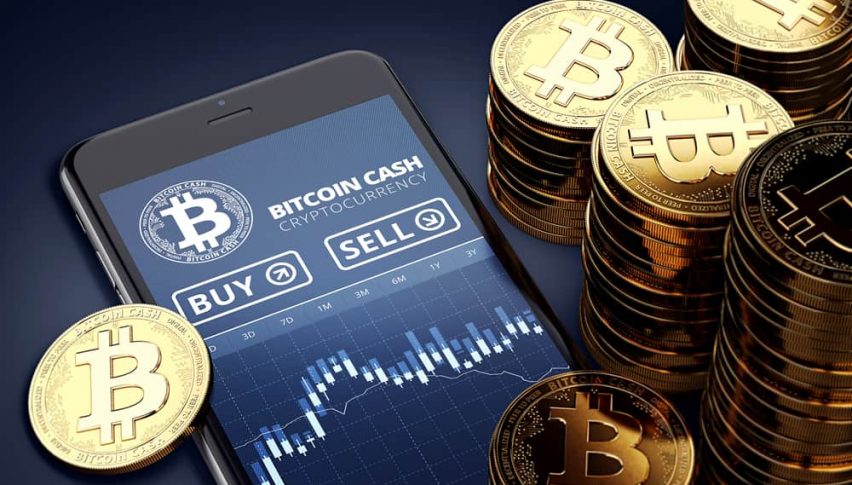 US Session Forex Brief, April 2 – The USD Remains the Strongest Currency in Forex but Cryptos Outperform
During the Asian session today we had the meeting from the Reserve Bank of Australia (RBA). Building approvals from Australia were released a few hours before the meeting and they showed an impressive 19.1% jump which is the biggest increase since July 2012. But, that doesn't fare well for the AUD because house prices have been declining in Australia and more construction would mean even lower prices as the supply side increases.
The RBA shifted from slightly hawkish to neutral/dovish in the previous meeting, so it was interesting for AUD traders to see where they stood this time. The RBA solidified their neutral bias today and it put more emphasis on risks to the economy. This left analysts thinking that the RBA might turn even more dovish in the next meeting, although it depends how the data and the global economy will perform until then, I assume. Nonetheless, the Aussie turned even more bearish and it is the weakest currency today.
Another thing to take our attention this morning was the surge in cryptocurrencies. BITCOIN surged around $900 in less than two hours, bouncing from above the $4,000 area which now seems to have turned into support to above $5,000. It eventually pulled back lower, giving up some of the gains, but cryptos remain quite bullish today. In forex, all major currencies have been weakening further today apart from the USD which continues the uptrend of the last several days.
European Session
Swiss CPI Inflation – The consumer price index report has shown that inflation has been declining from November last year to January this year. Although, inflation made a turnaround in February as last month's report showed, growing by 0.4% which was what was expected for March as well. But, the actual number beat expectations coming at 0.5%.
Spanish Unemployment Change – The unemployment change declined by around 50k in December, probably as Christmas period required more people working, because we saw a sharp reversal and an increase to 83.5k in January. In February, jobless claims increased again, this time by 3.3k. This month's report was expected to show a 28.5k decline in jobless claims for last month, but they fell by 34k, which is a positive reading.
UK Construction PMI – The construction PMI report from Britain has been weakening in recent months and in February it finally fell into contraction, below the 50 point level. Today's report which is for March was expected to show a small increase from 49.5 points to 49.8 points. It missed expectations slightly, coming at 49.7 points, which means that the construction sector remains in contraction in Britain.
Eurozone PPI Inflation – The producer price index inflation turned negative at the end of last month, declining by 0.3% and 0.8% in November and December respectively. The falling Oil prices had a negative impact on input prices, but they grew by 0.4% in January as Crude Oil prices reversed higher this year. Although, it was revised lower today to 0.3%. Today's report which was for February was expected to show a 0.2% increase, but it missed expectations coming at 0.1%.
EU's Barnier Speaking on Brexit – EU's chief Brexit negotiator, Michel Barnier, was commenting this morning that the EU needs a strong justification to agree on a long Brexit extension. He added that no-deal Brexit has become more likely but can still hope to avoid it. The EU can accept a customs union and new relationship akin to Norway deal. The only way to avoid a no-deal is for positive majority in UK parliament.
ECB's Coeure Speaking – The ECB Governing Council Member, Benoit Coeure, was speaking to Reuters in an interview earlier saying that the monetary policy normalisation will be a very long and gradual process. It will depend on economic indicators and forward guidance will be needed for a good while yet. So, no rate hikes from the ECB for years to come, it seems.
The US Session
US Durable Goods Orders – Yesterday, the US retail sales for February posted an unexpected decline, so I had a feeling that today's durable goods orders report for the same month would also post a decline it did. Headline durable goods orders declined by 1.6% that month against -1.1% expected, but at least core orders increased by 0.1%. That means that the transport items are affecting orders negatively, otherwise they remain flat, more or less.
Cryptos Hold Most of the Gains – Cryptocurrencies surged higher this morning with major cryptos gaining somewhere between 5% and 15%. Bitcoin, surged nearly 20% higher in fact and pierced above the $5,000 level, but it has pulled back and it is trading around $4,800 now.
GDT Price Index – The global dairy trade auction, which is held every fortnight, is taking place today in New Zealand. Global dairy price index used to decline for quite a few months at the end of last year but turned positive in December and have been growing constantly since then. There are no expectations since it is an auction.
US Total Vehicle Sales – Total vehicle sales averaged at around 17.5 million a month in the period from September until December last year. But in January and February this year they fell to around 16.6 million per month. Today's figures which are for March are expected to be in that region, with total sales at 16.7 million.
The trend has been bearish for more than a year
The "Gold Rush" for cryptos is over
The retrace higher is complete on daily and weekly charts
The 100 SMA held the surge in bitcoin
Bitcoin has been on a major bearish trend since December 2017. Although, the decline stalled in December last year and we have seen a slow uptrend form in the previous months. Today, Bitcoin spiked higher climbing nearly $1,000 but it stopped at the $5,000 level where we can find the 100 SMA (red) on the daily chart as well. We decided to get in on the bearish trend after this retrace higher and go short on Bitcoin. Now let's see if this was just a retrace before the next leg of the bearish trend begins, or whether it is a trend reversal, which I doubt.
In Conclusion
The US durable goods orders today showed a major decline but the USD didn't mind much since the core orders ticked higher. Although, the USD isn't going anywhere now either and markets seem to be frozen, so it's getting sort of difficult to pick a trade. If anything comes up, we will be here to share it with you guys.