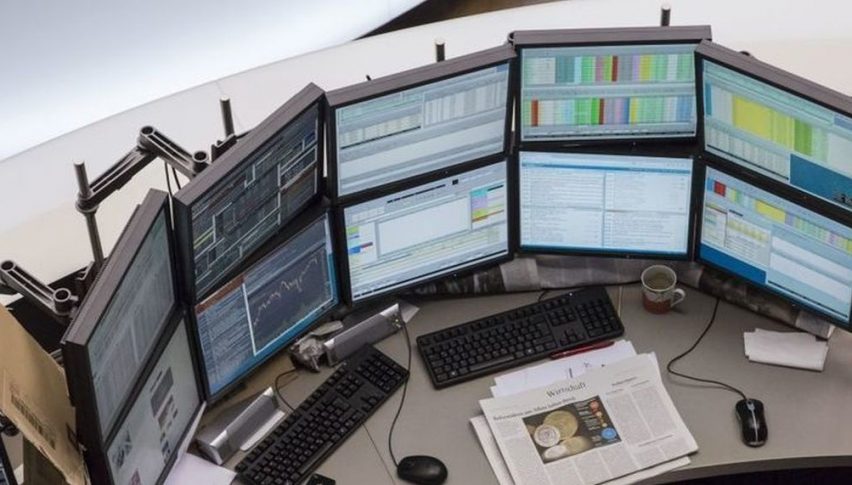 US Session Forex Brief, April 4 – Markets on Standby Ahead of the US Employment Report Tomorrow
Yesterday markets turned bullish after the positive services data from China and the Eurozone. The reversal in Chinese services and manufacturing as well as the jump in Eurozone services yesterday brought a ray of hope, suggesting that the softening trend of the global economy might be coming to an end, hence the rally in risk assets such as stock markets and the commodity Dollars. But, summer doesn't come with just one flower, there's an old saying. Just one round of positive data doesn't change the trend of the overall global economy. Traders know that, so they have stopped buying anything since yesterday.
Tomorrow we have the US employment report which includes the unemployment rate, average earnings and the non-farm employment change. Earnings are the most important component of this report, although this time the attention is on the payrolls because in January and February we saw some really strong figures with jobs increasing above 300k per month. But last month, we saw a really weak number as new jobs fell to 20k.
So, markets are standing on the sidelines now waiting for the US employment report tomorrow, just in case there is another surprise. Not that there's many currencies to buy; all major central banks have shifted to dovish and today the Italian and German GDP growth were slashed much lower than previously estimated for this year. German factory orders declined for the 4th month in a row today and the ECB minutes also seemed dovish, so fundamentals are still bearish for the Euro. Cryptocurrencies continued their bullish move yesterday with Bitcoin pushing up to $5,320 at midnight, but today they have retraced lower and Bitcoin is trading around the $5,000 level now.
European Session
German Factory Orders – Factory orders have been declining in Germany in the last three months, from November to January and the decline has gotten bigger. In January factory orders declined by 2.6% which was revised higher today to -2.1%. Today's report which is for February was expected to show a reversal and a 0.3% increase, but orders remained negative again, continuing the negative trend and fell by 4.2% that month.
EU's Barnier Speaking on Brexit Delay – May 22 is seen as the 'final' deadline for a Brexit extension before getting the UK involved in European Parliament elections. The UK doesn't like to get involved in EU elections this year as they are about to leave, but they might get forced to since they don't seem close to getting a deal through.  The EU chief Brexit negotiation Michel Barnier commented earlier today saying that they could allow Brexit delay until 22 May but it is up to EU leaders, so we'll see how this thing ends up.
German GDP Growth Revised Down – German financial institutions came out with negative revision to GDP growth for this year today. They cut 2019 German growth forecast to 0.8% from 1.9%. They also made comments: long-term upswing of the German economy has ended, risks for the German economy have grown, i.e., US-China trade dispute and Brexit. If no-deal Brexit occurs, economic growth for this year and the next will likely be much lower than the forecast.
Italian GDP Growth Revised Down – The Italian government to target GDP growth of 0.3% to 0.4% for 2019. Economists see a 0.1% GDP growth this year. Italy is said to see wider budget deficit at 2.3% to 2.4% (2.1% is the official promise) in 2019.
ECB Monetary Policy Meeting Accounts – The ECB released the meeting minutes today with the headline comment saying that the baseline view was solid, and growth to return later this year. Returning to full growth potential through projection horizon seems very optimistic to me right now. Risk of inflation expectations de-anchoring seen as low. But, this meeting was held two weeks before the dip in core CPI to 0.8% from 1.0% this week. They must have changed their mind now. The economy is in an extended soft patch and the length of this is still unclear. Uncertainty has elevated, citing trade tensions. Growth slowdown could weigh on the pass-through from wages to prices.
The US Session
Challenger Job Cuts – Challenger job cuts announced by employers have been on a declining trend. Although in February they jumped to 117.2%. Today's report though showed that the declining trend has returned and job cuts fell to just 0.4% for the month of March.
US Unemployment Claims – The unemployment claims have also been on a declining trend in recent weeks falling from around 250k at the end of January to 211k last week. This week's report was expected to show a slight increase to 215k but the actual number beat expectations coming at 201k. So the declining trend continues, which is a positive thing.
Canadian Ivey PMI – The Ivey PMI report which shows the level of a diffusion index based on surveyed purchasing managers has shown that the Canadian economy is slowing down considerably since last October when this indicator stood close to 62 points. In February, the Ivey PMI indicator fell to 50.6 points which is close to contraction. Although, expectations are for an increase to 51.4 points today.
The main trend is bearish
The pullback higher is complete
The 50 SMA provided solid resistance
The reverse is already underway
The 50 SMA did a good job providing resistance
Yesterday we went short on EUR/USD as this pair retraced higher on the positive Eurozone services data. Although, the retrace continued higher to 1.1255 where it met the 50 SMA (yellow). This moving average proved to be a very strong resistance indicator as it held for a few sessions. The stochastic indicator became overbought and it is heading down now as this pair also turns bearish. After all, fundamentals and the main trend are still bearish.
In Conclusion
The sentiment has been quite positive all week but the risk currencies are turning bearish now, which is an indicator that the sentiment might shift to negative soon. Although, everyone is waiting for the US employment report to be released tomorrow after the really soft non-farm employment change last month, so don't expect much action today.
The USD is looking softer today after the unemployment claims showed a jump to the highest since October 2021 last week
2 days ago