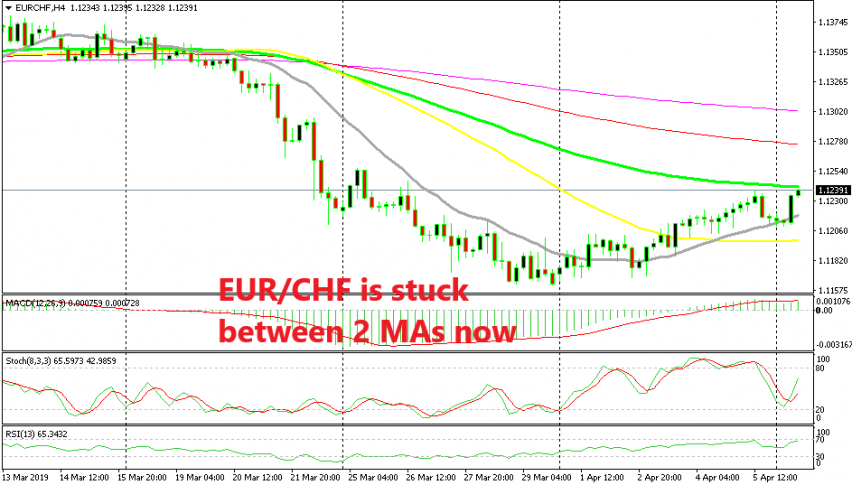 The Trend Might be Changing for EUR/CHF as the 20 SMA Turns into Support
Late last week we went short on EUR/CHF as this pair was retracing higher. EUR/CHF has been on a downtrend during the previous two weeks, losing more than 200 pips in the process, but last week the trend reversed. Now, it is not really certain if the trend has changed from bearish to bullish, but this is at least a decent a retrace higher.
One of the signs that the trend might be changing is the fact that the 20 SMA (grey) has turned into support now. This moving average used to provide resistance during the downtrend, but last week it turned into support as the buyers pushed above it and above the 50 SMA (yellow).
The price got pretty close to the 100 SMA (green) on Friday and it seemed that the buyers gave up at that moving average, that's why we went short on this pair. The price reversed back down from there towards the end of the day and we were 20 pips up with this trade last night, but we see now that the 20 SMA provided support again, which is a strong sign that it is now defining the trend and the price action for this pair, at least on the downside.
But, we still hope that the 100 SMA (green) holds at the top side. EUR/CHF is banging against the 100 SMA right now, but we will see if it will hold and reverse the price back down, or whether the buyers will push above it, which will be a strong signal that the longer term trend might be changing.