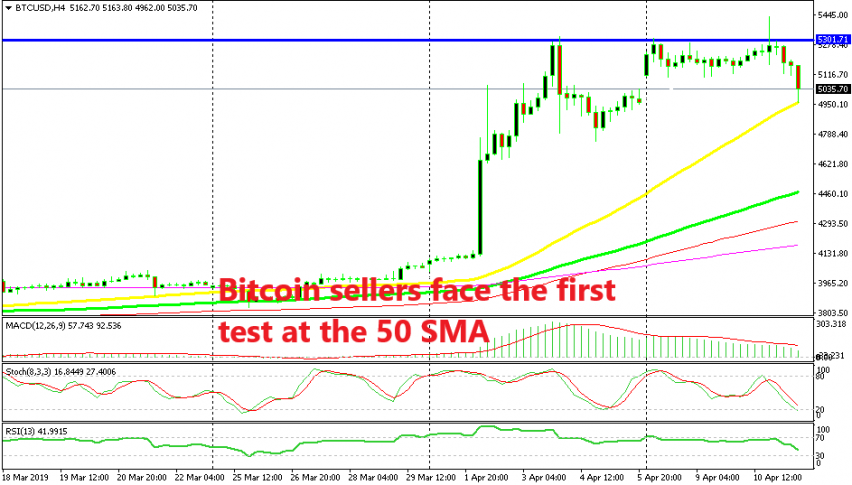 Bitcoin Breaks the Resistance at $5,300 but Makes a Steep Reversal Back Down
Crytpocurrencies turned pretty bullish last week as BITCOIN broke above the former resistance zone at $4,000-$4,200 which had been confining the price to the upside since late November last year. The price surged higher, climbing nearly $1,000 in a few hours, as you can see from the H4 chart above. The bullish move carried on and we saw some further gains.
The buyers finally managed to push above the $5,000 level for the first time in 5 months and pushed to $5,300, which now turned into the next resistance zone. The buyers have been trying to push above this resistance for about a week, but they only managed to pierce it last evening, as Bitcoin made a quick $200 spike higher.
But, that doesn't count as a break because the price reversed back down as quickly as it spiked higher. So, that wasn't a break, just a piercing before the sellers returned with a vengeance. During the Asian session there was a move lower to $5,100 and we saw another decline a couple of hours ago.
The price fell below $5,000 a while ago, but the decline stopped right at the 50 SMA (yellow) on the H4 chart. This moving average has provided some sort of support and resistance before, so traders seem to be aware of it.
It is now the first support level and the first test for sellers to prove if they are still strong enough to reverse the bigger trend back to bearish. If the 50 SMA goes, then they have a decent chance to push down to $4,000 which will likely turn into support now. If not, then the buyers will remain in charge and the resistance at $5,300 will be in real danger.