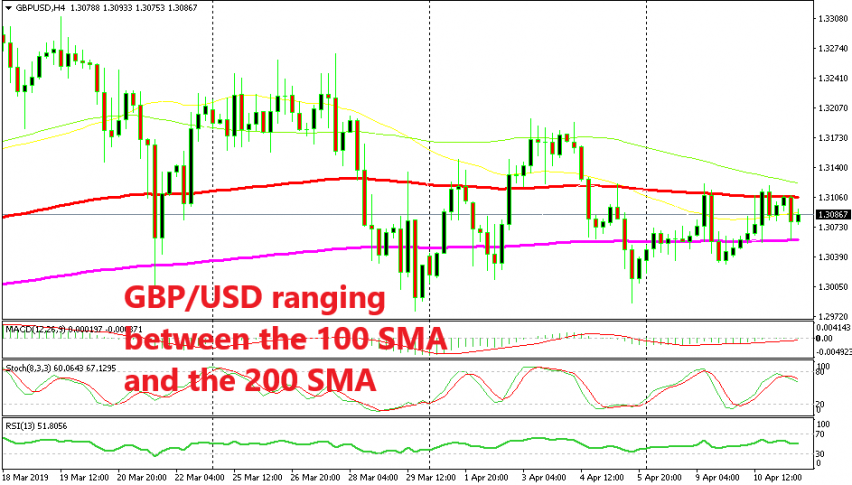 The Range has Narrowed in GBP/USD as it Bounces Between MAs
In recent months, we have seen some increased volatility in GBP pairs as we edge closer to the end of the Brexit process. Although, no one really knows how or when this saga will end, which makes the situation for the GBP very uncertain. ALthough, the volatility has decreased in the last couple of weeks as we wait to see what comes next now that Theresa May has lost her third attempt to pass the Brexit deal in the British Parliament.
Last week, GBP/USD was finding resistance at the 100 simple moving average (green) which placed a lid on bullish attempts and eventually the price reversed lower, below 1.30. This week, GBP/USD is bouncing between the 100 smooth MA (red) at the top and the 200 SMA (purple) at the bottom.
The range has been pretty tight as the distance between the two moving averages is only about 60 pip wide, while the trading range has been around 90 pips wide. There have been piercings on both sides as the price moved above and below these moving averages briefly, but there hasn't been a clear break, so the range continues.
There isn't any important data to be released on the forex calendar today or tomorrow, so I suppose this pair will continue to trade inside this range until the end of the week, unless the USD makes a move or we hear some really important Brexit related news. This means buy at the bottom at the 200 SMA and sell at the top at the 100 SMA, targeting the opposite side of the range, so let's go guys. Although, not right now, since the price is right in the middle of the range at the moment.