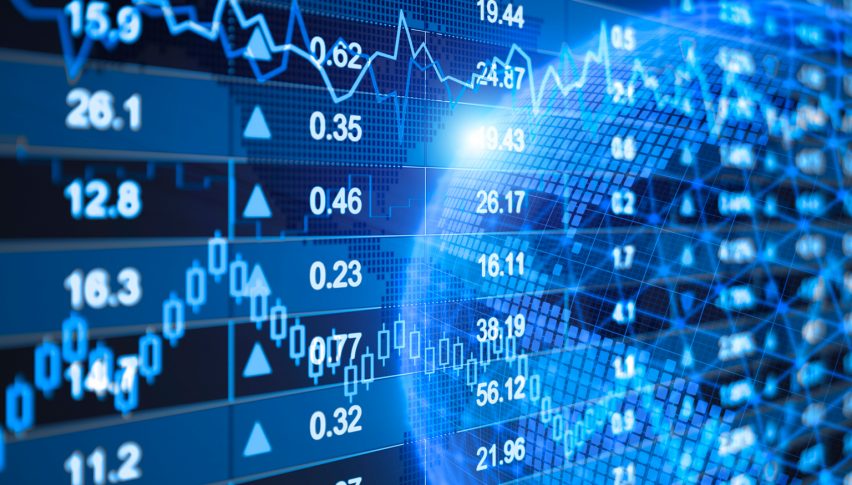 US Session Forex Brief, Apr 11 – Markets Seem Uncertain Again After the ECB Meeting and FOMC Minutes
Financial markets have been pretty uncertain this week. During the first half, they were waiting for Wednesday, which had reserved quite a few important fundamental events. But today after those events are over, markets seem even more uncertain/confused now. The European Central Bank confirmed the dovish bias yesterday, but I suppose traders were expecting an even more dovish ECB.
After all, most economic indicators have turned negative and today, ECB economists revised growth and inflation forecasts even lower for 2019 and the next two year. The Euro lost around 50 pips yesterday but reversed back up and now it is more or less unchanged. US headline CPI inflation jumped higher in March as yesterday's report showed, but core inflation, which is more important, remained subdued at 0.1%.
The FOMC minutes released in the evening which we covered live on our forex calendar didn't clear the FED's position regarding the monetary policy. Patience was once again the highlight of the meeting held two weeks ago, but at the same time, global risks were seen on the decline and the door was left open for one or two rate hikes later this year. In such periods when traders are uncertain about where to run to, the safe havens attract some decent bids and, as a result, GOLD has been climbing higher while USD/JPY continues to be bearish for the week.
European Session
German CPI Inflation – Inflation has been softening in Germany as well as in the rest of the Eurozone at the end of last year and in January this year, CPI declined by 0.8%. Although, it turned positive again in February, increasing by 0.4% which was a tick below expectations. Today's report which is for March was expected to remain the same at 0.4% and it came exactly as expected.
French CPI Inflation – The consumer price index has been even softer in France in recent months. In September and December last year, inflation declined by 0.2% while in January it declined by 0.4%. Last month's report showed that inflation fell flat in February, but today's report showed a 0.8% increase which is a positive thing. But, I assume the increasing Oil prices have contributed the most as the PPI report from the US showed today.
ECB Survey Points to A Downward Revision in Inflation and GDP – The European Central Bank released the results of its survey of professional forecasters and forecasts point to a revision down for both inflation and the GDP. Below are the numbers:
2019 inflation seen at 1.4% (previously 1.5%)
2020 inflation seen at 1.5% (previously 1.6%)
2021 inflation seen at 1.6% (previously 1.7%)
2019 real GDP growth seen at 1.2% (previously 1.5%)
2020 real GDP growth seen at 1.4% (previously 1.5%)
2021 real GDP growth seen at 1.4% (unchanged)
Brexit Extension? – The rumours of another Brexit extension, probably until the end of October, have been increasing. After all, the deadline is over now, isn't it? European Commissioner Oettinger said earlier today that another extension is among the conceivable options on Brexit. He added that every other option is better than no-deal Brexit while a second referendum and snap elections in the UK are also possibilities.
The US Session
Canadian NHPI – The selling price of new homes has been remaining flat in Canada for more than a year. In fact, they turned negative in January as last month's report showed a 0.1% decline. Today's report was expected to show a return to flat once again and the actual number came at 0.0%, so no increase in house prices in Canada, unlike in Australia and the UK.
US PPI Inflation – Yesterday we saw the CPI (consumer price index) inflation showing a 0.4% increase in March, but the core CPI remained weak at 0.1%. Today, the PPI (producer price index) showed a nice jump of 0.6% for March and core PPI increased by 0.3%. But, gasoline prices and trade tariffs were the main contributors for that increase. Whether or not this will translate into higher CPI inflation in coming months remains to be seen.
US Unemployment Claims – Unemployment claims have been on a declining trend since the end of last year. At the end of last year, jobless claims stood at 230k-240k, but the range moved lower to 220k and then to 210k and 200k in the last three weeks. Today, unemployment claims for last week were expected to increase to 210k again, but declined further to 196k, so it seems that the employment sector is doing well. But let's see if that will help increase wages in the coming month.
OPEC Wants Oil At $80-$85 – OPEC will debate later about increasing production in the June meeting if Brent crude hits $80-85 per barrel and Iran/Venezuela production falls further, according to sources cited by Reuters. The source added that

"if there was a big drop in supply and oil went up to $85, that's something we don't want to see so we may have to increase output,". Another source also commented saying "An increase is on the table, yes, if prices went to $80 and higher". UK Brent crude is trading above $70 now while US WTI crude Oil is trading above $63.
The trend has shifted to bullish
The SNB stands ready to intervene
The 20 SMA has turned into a solid support for the uptrend
Buyers haven't been able to push past the 100 SMA
Last week we went short on EUR/CHF as this pair had been bearish for the previous two week. But, the trend shifted to bullish last week and this week the price has been advancing higher. The Swiss National Bank threatened with intervention last week and it seems that their threat is working well as the CHF has reversed lower, thus sending this pair higher. Now, the 20 SMA (grey) has turned into support for this pair on the H4 chart and is a good indicator to look for longs if the price retraces lower.
In Conclusion
Markets continue to be uncertain this week as they turn bullish and bearish from one session to the next. The USD climbed higher yesterday after the higher CPI figures, but then it all reversed and the USD has been soft since then. But in the last few hours we are seeing USD bulls returning, so I suppose we will see choppy markets until the week ends tomorrow.