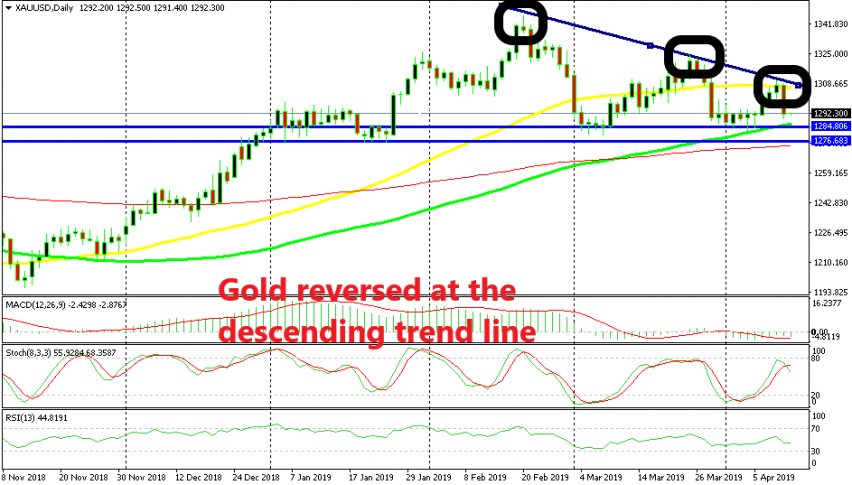 Gold Turns Bearish from the Descending Trend Line, Confirming the Major Trend Reversal
GOLD has made some decent gains at the end of last year and the beginning of this year as it pushed above the $1,300 level, reaching $1,346 on my platform. That level is the bottom of a major resistance area which stretches all the way to $1,375 on larger time-frame charts.
That level proved to be too strong a resistance for Gold buyers and, after the upside down hammer candlestick which is a reversing signal, the reverse came and it was pretty swift as well. Although, the price found support at the previous support area around $1,280-$1,285.
We saw a bounce from that area last month, but Gold couldn't make new highs and reversed back down at $1,324. This was a sign that the major uptrend which started last summer might be over. Gold sellers tried the downside once again at the end of March but the support area held for the second time, this time aided by the 100 SMA (green) as well.
This week, we saw GOLD bulls make another attempt to the upside but as I pointed out earlier in the week, if they couldn't push above last month's highs, then the major uptrend would officially be over. That proved to be true as Gold reversed yesterday right at the descending trend line which connects the previous 2 highs. The 50 SMA (yellow) also provided some decent resistance and now we are heading down. This makes the uptrend of the last 7-8 months officially dead, period. Now we must look for long term sell signals in Gold. Yesterday was a good opportunity, but that's gone.