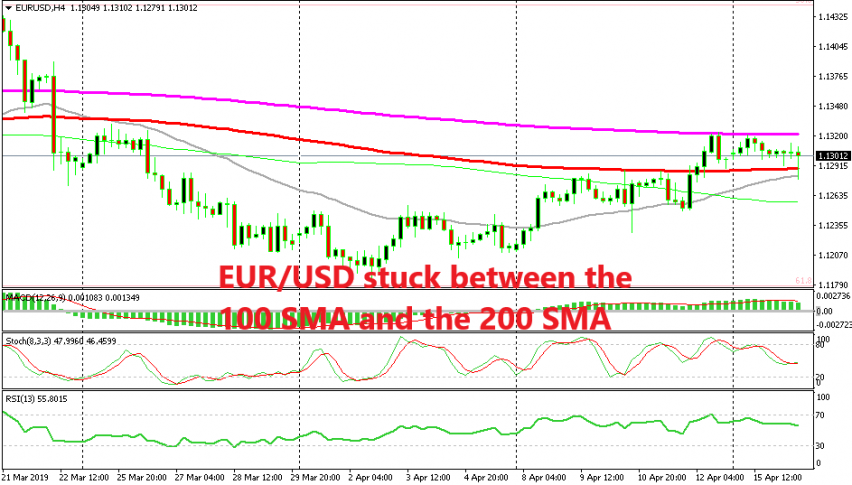 EUR/USD Still Undecided and Bouncing Between 2 MAs, Not That it Has Any Reason to Rally Higher
EUR/USD has been trading on a bullish trend in the last two weeks. This is not really a trend since it has been really slow and weak and the main trend is still bearish. But, EUR/USD has climbed around 140 pips higher nonetheless during this time, although, it has found it pretty difficult to push above 1.1320s.
At that area, we find the 200 SMA (purple) on the H4 chart which seems to have stuck its foot in the ground and is not letting anyone go past it. It has provided solid resistance since Friday last week and we have seen the price reverse back down from there twice. This pair lost more than 30 pips in the last couple of hours as it reversed down again this morning.
But, EUR/USD has formed a range and at the bottom of this range we have the 100 SMA (red) lying at 1.1290. This moving average provided some decent resistance last week, but it was eventually broken and now it has turned into support. Now the 20 SMA (grey) has caught up with the price as well and it is adding more strength to the support level.
So, EUR/USD is stuck in this range now until one side of the range gives up. Although, I still think the sellers will win this battle because the Euro doesn't really have any reason to run higher. We saw some green shots from the Eurozone data last week as services came back from contraction, but manufacturing continues to be in deep contraction and inflation is weakening further. But, the reverse will only come when the bottom of this range is broken.