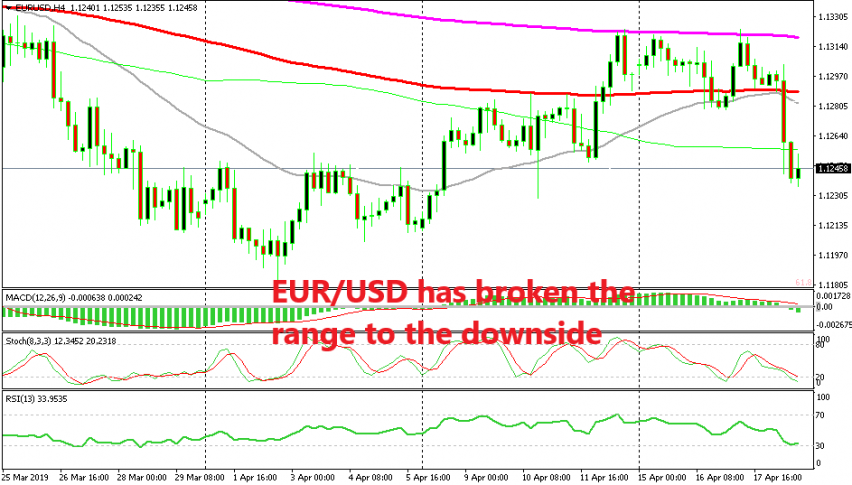 EUR/USD Finally Breaks Out of the Range and Turns Bearish After the Impressive US Retail Sales
EUR/USD turned bullish in the previous two weeks as the sentiment in financial markets improved somewhat. The price was also oversold on larger time-frames so a pullback higher was overdue. Although, since last Friday, this pair has been stuck inside a range and the price has been bouncing between moving averages for about a week.
At first, the price was bouncing between the 100 SMA (red) at the bottom and the 200 SMA (purple) at the top. The range has been pretty narrow, around 30 pips wide, which shows the uncertainty among EUR/USD traders  and the lack of willingness to push on either direction.
But today, the economic report from Europe and the US finally gave traders a reason to turn bearish for this pair. The manufacturing PMI reports from the Eurozone confirmed the deep contraction for this sector after last month's really soft figures and the US retail sales report showed a big jump for March.
The manufacturing reports hurt the sentiment for risk assets and particularly for the Euro which sent this pair tumbling 60 pips lower and the retail sales report gave the USD a boost, and this pair another kick lower when the US session started. Now, this pair has finally broken the range and all moving averages, so it seems like the bigger bearish trend is back into play for EUR/USD. We are already short on this pair with a long term sell forex signal.