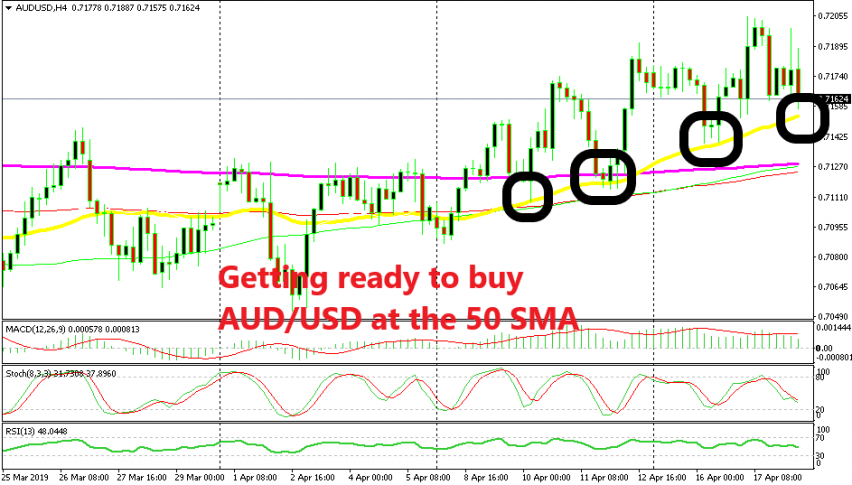 Getting Ready to Buy AUD/USD as it Approaches the Trend Defining Indicator
AUD/USD turned bullish at the beginning of March as the sentiment started to improve a bit after having been pretty negative in the previous several months. The trend has been choppy because the global economy is still pretty weak and several major central banks have turned dovish meanwhile, including the Reserve Bank of Australia. But at least, the Chinese manufacturing started to reverse last month and it is back into expansion now, which has improved the situation for the Aussie.
There have been many pullbacks lower during the uptrend as the sentiment has shifted back and forth in the financial markets due to negative data releases across the globe. We're in the middle of another pullback lower today. Technically, it is time for a retrace after the bullish move in the last two days.
Besides that, the manufacturing reports from the Eurozone released this morning were negative once again, showing that this sector is still in trouble in Europe and it is not coming back to expansion anytime soon. This casts doubts regarding the global economy; the slowdown is not over by any means.
So the pullback is underway in AUD/USD and we are getting ready to buy this pair. This pair is almost oversold as stochastic is getting close to the bottom of the window and the price is close to the 50 SMA (yellow). This moving average has turned into support, especially in the last two weeks, defining the bullish trend, so we are thinking of going long at the 50 SMA.