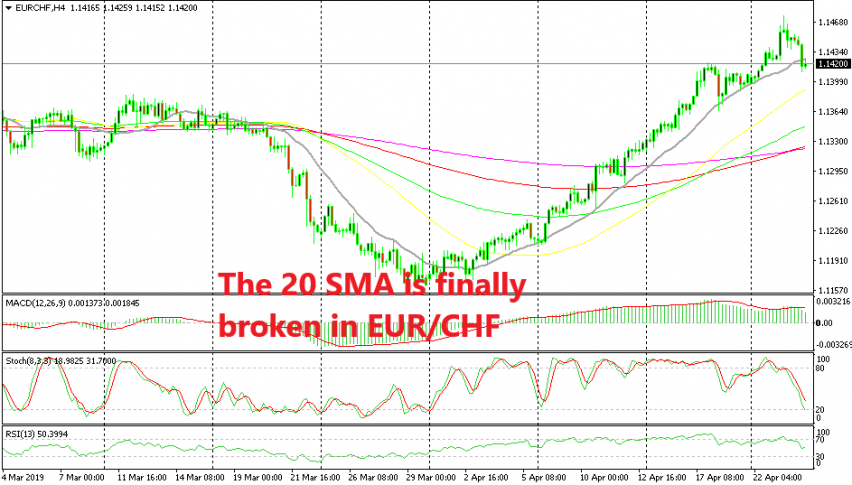 Is the Uptrend Over in EUR/CHF Now That the 20 SMA Has Been Broken?
EUR/CHF has been on a roller-coaster ride since the middle of March. First, it fell more than 200 pips down during the second half of March, but then the Swiss National Bank threatened with intervention which reversed the trend immediately for this pair and since the beginning of April, the traffic has been one way only – to the upside.
This month, the retraces down have been very minimal, with the deepest pullback accounting for around 60 pips which took place last week. The 20 SMA (grey) has been defining the trend since the roller-coaster ride began. During March, the 20 SMA was working as resistance, pushing the price down.
This month, the 20 SMA shifted into support immediately once the trend changed. So, this moving average has been the defining indicator during the downtrend and then during the uptrend, as the H4 chart above shows. But now we see that the price has slipped below the 20 SMA. It is the first time this has happened since the bullish trend started, so there is a strong possibility that the uptrend might be over now.
After all, the major time-frame charts are all overbought up to the weekly. This might also be a good opportunity to go short on this pair, but we have to get a confirmation that the trend has ended. If EUR/CHF doesn't make new highs this week until it ends, then that might be a signal that the trend might be reversing.