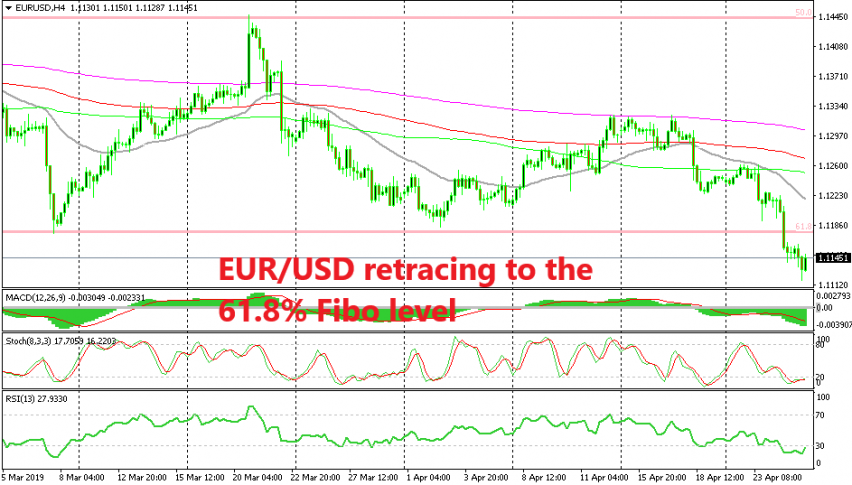 Getting Ready to Sell the Euro at the 61.8% Fibonacci Retracing Level
EUR/USD turned bullish on long term time-frame charts at the beginning of last year, but at the end of 2018 and the beginning of this year the trend slowed down considerably. In fact, EUR/USD formed a bottom at 1.1170-80 in the last two months, which is the 61.8% Fibonacci retracing level of the swing low at the end of 2016 and the swing high at the beginning of last year.
We saw a bounce to the 50% FIbo level last month but that level turned into resistance at 1.14550. So, there was this idea that EUR/USD might keep bouncing between these two levels for quite some time, which would be a good trading range by the way.
But, the USD turned more bullish this week and eventually the 61.8% Fibonacci level was broken yesterday. Today this pair fell to 1.1118 on my platform. The US durable goods orders report was quite positive today but the Buck isn't taking advantage of that and now it is retracing higher.
I am waiting for the price now to get close to the 61.8% Fibo level which would be a good place to look for shorts. The price is around 40 pips lower now, so I think it will take some time for it to get there, but when it does, I'm pretty sure I will sell this pair up there.
The USD is looking softer today after the unemployment claims showed a jump to the highest since October 2021 last week
1 day ago