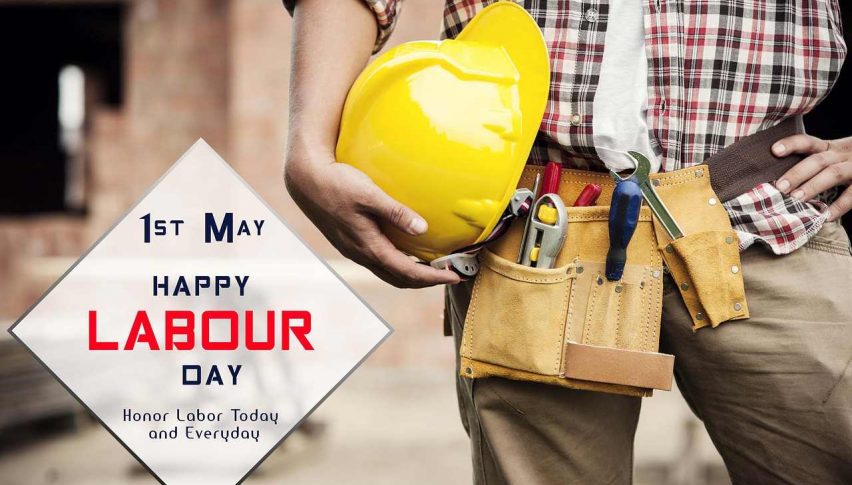 Market Movers For May 1, 2019
Wednesday marks the first trading session of May and Labour Day in many countries around the world. Various businesses and banking institutions will be closed, with a portion of international workers getting the day off. However, for active traders, the markets will be alive and opportunity afoot. If you are going to be behind the screen for the Wednesday session, get ready for volatility across the equities, futures, and currency markets.
Key Labour Day Events
The coming 24+ hours is jam-packed with key economic events. Here is a quick look at the headliners:
Event                                                                   Previous            Projections
New Zealand Unemployment (Q1)                    4.3%                      4.2%
U.K. Markit Manufacturing PMI (April)               55.1                       53.0
U.S. ISM Manufacturing PMI (April)                    55.3                       55.0
FED Interest Rate Statement                                2.5%                      2.5%
FOMC Press Conference                                         NA                         NA
EIA Crude Oil Stocks Report                               5.479M                  2.093M
In addition to these events, be aware that Wednesday is the first trading day of the new month. Institutional capital and large investors frequently make moves on the monthly open. It will be important to identify April's high/low price points for the products you are trading ahead of tomorrow's session.
Markets To Watch
The first trading day of any new month can bring an abundance of participation to the markets. Wednesday may prove more active than usual, considering that the FED Interest Rate Decision is scheduled. Markets across the board will be impacted and here are a few to watch:
WTI Crude Oil: At press time (1:30 PM EST), June WTI futures are trading in the neighborhood of $64.00. Price is just above daily support and slightly positive on the session. If we see a green daily candlestick form on today's close, then a post-EIA stocks report rally toward $66.00 will become a possibility.
U.S. Indices: The U.S. indices are trading in a tight consolidation pattern, looking for any reason to break out. In the event the FED mentions last Friday's GDP report, or suggests that growth projections have been revised upward, then the U.S. indices may sell-off considerably. If the FED holds the dovish line, then new all-time highs are likely to come into play by week's end.
Gold: June GOLD futures are in a two-day consolidation pattern on the daily chart. No matter what the FED says tomorrow, a directional move toward 1300.0 or 1250.0 in the coming 48 hours is probable.
As always, the forex will come alive following the FED's statements and presser. Be sure to stay tuned to FX Leaders' Live News Feed and Economic Calendar for analysis as the active May 1st trading session unfolds.