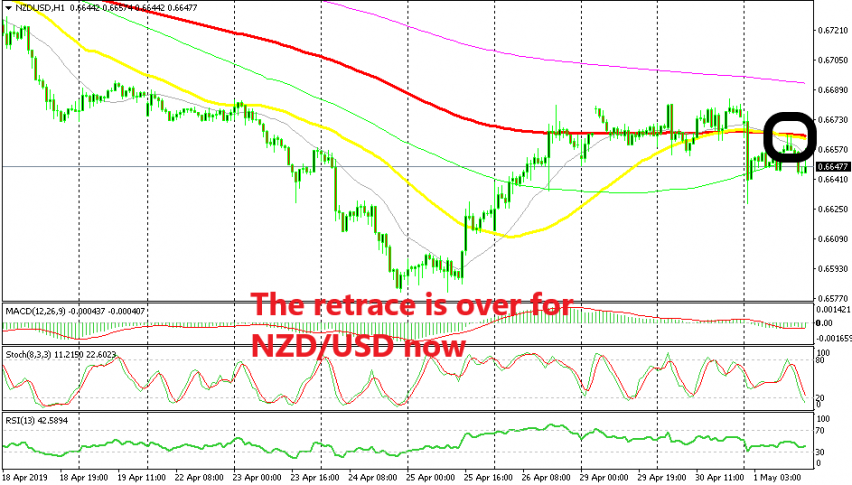 Bearish NZD/USD After the Soft Employment Report This Morning
A while ago we went short on NZD/USD. This pair climber higher in the second part of last week but the main trend is still pretty bearish so we decided to go with the bigger trend here. Although, the near-term trend is turning bearish as well after the 50 pip decline overnight.
In fact, that is another reason we went short. The employment report from New Zealand which was released during the night was pretty soft, employment change declined by 0.2% which is the first decline since August last year, while the employment cost for Q1 missed expectations of 0.5% and instead came at 0.3%.
This is the slowest increase in wages and salaries since this time last year. Inflation has also been weakening in New Zealand and the Reserve Bank of New Zealand has shifted to dovish, so the fundamentals loos quite bearish too. But, I decided to sell this pair when it was retracing higher earlier today. The stochastic indicator became overbought, the moving averages were providing resistance and the two candlestick below the moving averages formed two upside-down hammers which are reversing signals.
So we decided to go short there below the 50 SMA (yellow) and the 100 SMA (red). There was a small jump earlier on after the US ISM manufacturing PMI for April came out pretty soft, but this pair is giving up all the gains from that jump now, which is a good sign. If something can't go up on good news (bad US data in this case) then it will eventually go down.