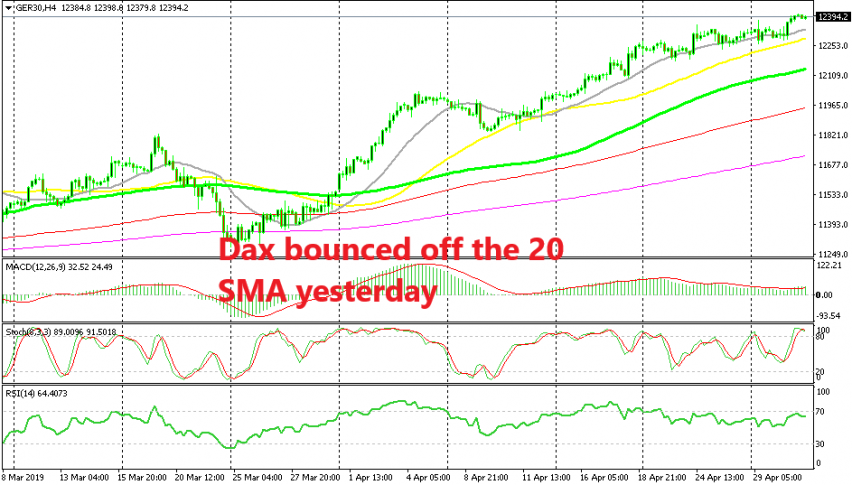 Dax Bounces Off MAs as the Uptrend in Stocks Continues
Stock markets have been on a bullish trend for more than four months now since they reversed at the end of December after being in a bearish trend for most of 2018. The buyers have been in total control during this time and the pullbacks have been minimal, apart from a couple of times. So, staying long on stocks is the way to go if you are trading indices.
If you are wondering where to go long, I can suggest moving averages since they have been working pretty well as trend defining and support indicators in almost all major indices. In the German DAX, the 20 SMA (grey) and the 50 SMA (yellow) have been providing support during the pullbacks on the H4 chart.
Although, the bigger moving averages have come into play during those deeper pullbacks. This means that the trend is pretty strong since the buyers are jumping in quicker at smaller MAs. In the last two days, we saw stock markets retrace lower while Dax just consolidated in a tight range, which is another bullish sign for this index.
Yesterday, Dax was trading around the 20 SMA while the 50 SMA was pretty close below. Today, Dax is around 100 pips higher after it bounced late in the US session. So, smaller period moving averages are still in charge as support for Dax and they are good places to go long from. So if you are trading Dax, wait for the 20 SMA and the 50 SMA to catch up and then start from there.