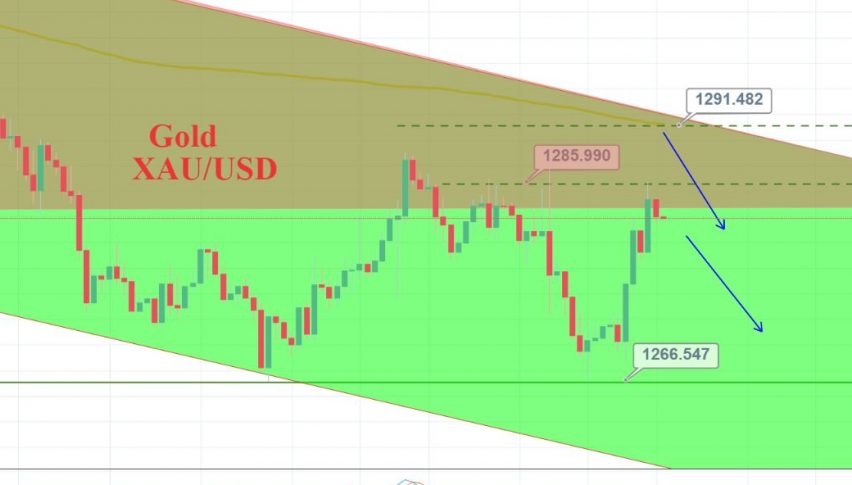 Daily Briefing, May 6 – Boosted Haven Appeal Triggers Gap in Gold
Good morning, fellas.
On Monday, the global financial markets experienced sharp fluctuations over the uncertainty triggered by the US President Donald Trump. So basically the remarks from President Trump overnight that tariffs will rise this week on $200 billion worth of Chinese imports have hit hard this morning.
This triggered the Risk-off sentiment, causing a gap in the safe haven assets such as gold and Japanese Yen. Besides that, stock markets suffered over uncertainty as an increased tariff could end up reducing the business activity of Chinese companies listed on the US stock exchanges.
This week traders will be shifting their focus to the US inflation reports after the Federal Reserve said last week that it is likely to keep interest rates steady for an extended period. Let's look at the gold trading plan for today.
Gold – XAU/USD – Bullish Gap, is it Gonna Fill Today?
On Monday, the precious metal gold prices rose after the US President Donald Trump warned to hike tariffs on Chinese goods, intensifying Sino-US trade tensions, prompting a risk-off sentiment and heightened demand for safe-haven assets.
President of the United States Donald Trump (POTUS) on Sunday declared he would impose tariffs on $200 billion worth of Chinese goods this week. He further said he would target an additional $325 billion of Chinese goods with 25% tariffs "shortly." As a result, there's a state of panic in the global financial markets and investors are rushing towards safe-haven securities like bullion (gold & silver) and Japanese Yen.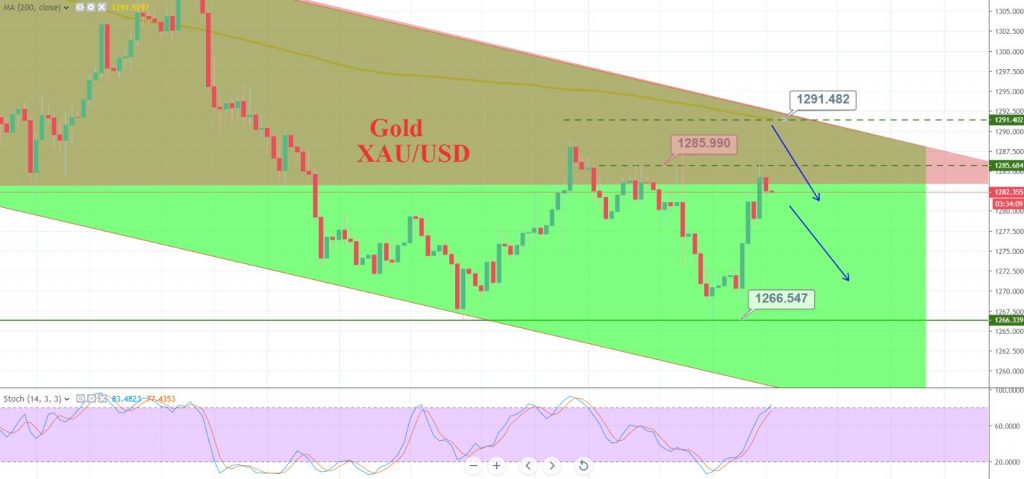 Gold – 4 Hour Chart
Technical outlook of gold remains bullish above 1,276 support level and bearish below 1,285 resistance level. Gold faced resistance on May 1 around 1,285 and tested the same level earlier today, which makes this level a double top pattern. These kinds of patterns are known for reversals and could trigger a bearish trend in gold.
On the upper side, gold can target 1,291 on the breakout of 1,285 resistance. Support prevails around 1,276. Moreover, gold can come down to fill 20 pips gap at 1,279 today.
Support   Resistance
1270.75      1284.84
1262.6        1290.78
1248.51       1304.87
Key Trading Level: 1276.69
Gold – XAU/USD – Trade Plan
Gold is likely to stay bullish above 1,276 and bearish below the same level. Consider taking positions with 30 pips stop and 40 pips take profit around 1,276 trading level today.
Good luck!
Yesterday the CPI numbers from European countries showed a slowdown, so today's headline Eurozone inflation numbers should be soft as well
20 hours ago