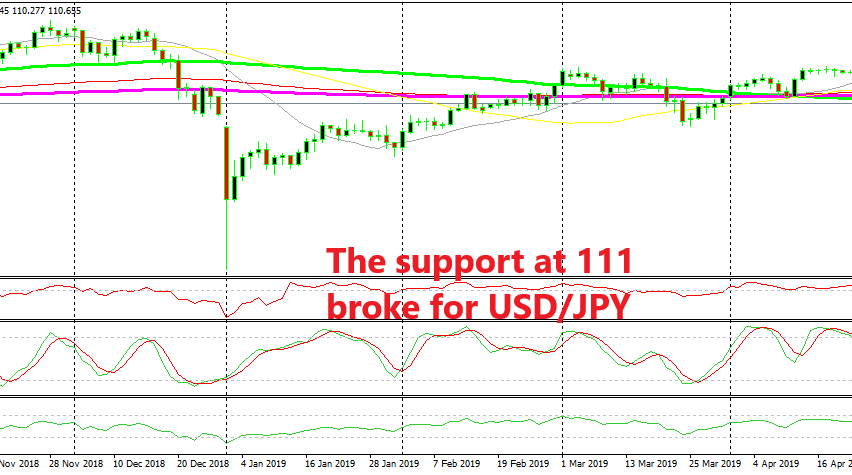 The Support Breaks Again in USD/JPY
USD/JPY has been trading in a range for more than two months since it broke above the 100 SMA (red) and particularly the 200 SMA (purple) at the end of February. Before that, this pair was trending higher after reversing at the beginning of this year, following a crash at the end of 2018.
Since the end of February though, this pair has been trading in a range above the 200 SMA which comes at 111, apart from once in March when it dipped below it for more than a week. During this time, there have been a couple of good opportunities trading this range, once during the second week of March and the next during the second week of April. 
At the end of last week it seemed that another opportunity arose to trade this pair in the daily time-frame. The price was still finding support at the 100 and 200 SMAs and the stochastic indicator was oversold and it still is, which increases the odds of reversing higher for USD/JPY.
There was only one catch – the US is about to increase tariffs on $200 billion of Chinese goods from 10% to 25% on Friday which hurt the sentiment in financial markets. As a result, this pair opened with a 40 pip gap lower last night. So, the support is broken once again. The 100 SMA (green) might turn into support but now the fundamentals have taken over. We have to see how the sentiment will be now; if it stays negative, then the bears will remain in charge for the next few sessions or few days.