Trade War Shakes the Oil Market – Trade Plan
Fellas, US President Trump hasn't only shaken the financial market but also the commodity market. That being said, WTI crude oil prices plunged by more than 2% on Monday after the US President Donald Trump said he would hike tariffs on Chinese goods this week, as trade discussions are going very slow.
How do Trump's Remarks Impact Crude Oil?
China is a manufacturing country and one of the biggest consumers of crude oil. The rise in trade tariffs could cause a drop in China's exports and ultimately it's manufacturing needs. Consequently, the Chinese demand for crude oil may also drop down. With that sentiment, investors shorted the crude oil futures, and selling pressure weighed on crude oil prices.
Technical Outlook
On the 4 hour chart, crude oil has violated the descending triangle pattern which supported black gold around $62.50. This level has been violated now, and it's working as a resistance. Crude oil has gained some support around $60.30. WTI has formed a candlestick pattern called inside bar and it signals a bullish reversal. The 50 periods EMA stays around $62.60 and may keep crude oil prices lower.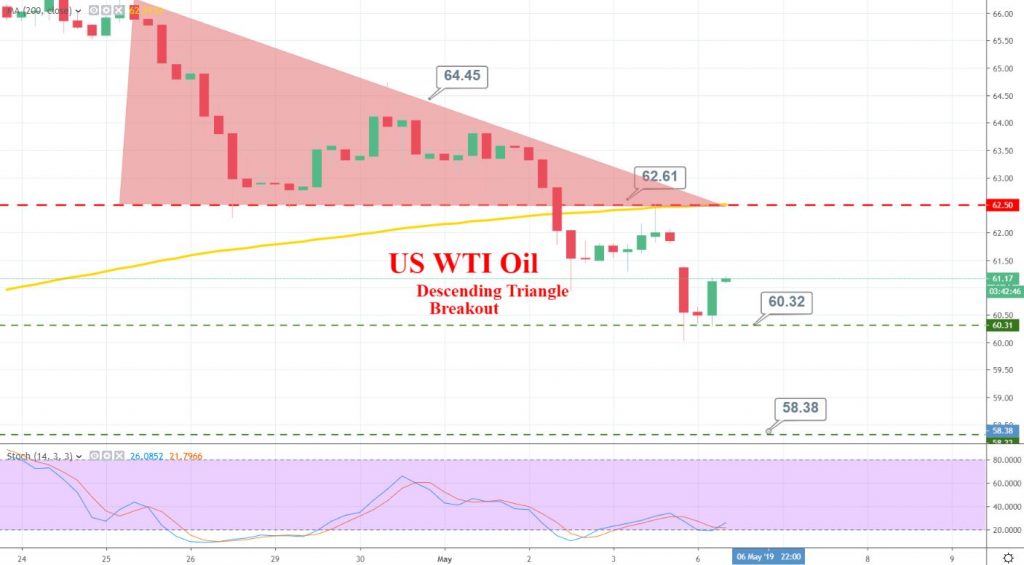 Support Resistance
61.31 62.53
60.72 63.15
59.51 64.37
Key Trading Level: 61.94
WTI Crude Oil – Trade Plan
Fellas, I will be keeping an eye on $60.30 support area as crude oil can stay bullish above this level until $61.90. On the flip side, selling will be preferred below $62.
Good luck!
Crude Oil has been bearish for more than a year, but this week we saw a decent reversal higher on higher Caixin manufacturing
5 days ago