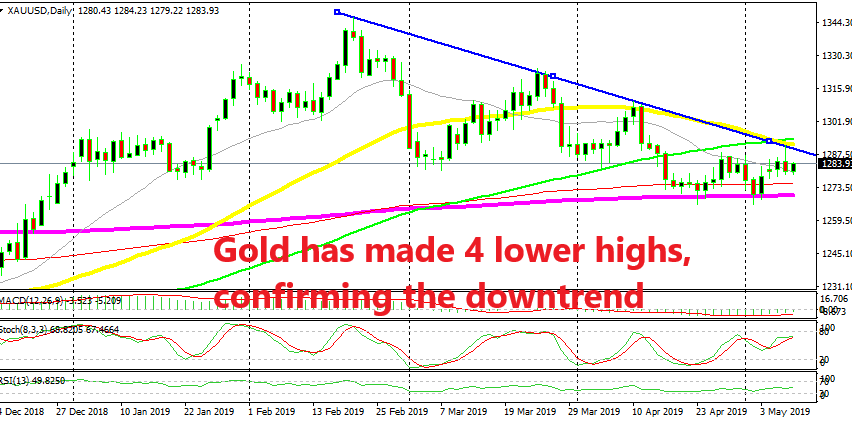 4 Signs That the Main Trend has Turned Bearish for Gold Now
The trend turned bearish in GOLD in February and since then the pressure has clearly been on the downside, as the daily chart above shows. We have seen retraces during this time which have been perfect opportunities to get in this new trend and sell Gold since it is pretty bearish now.
The first retrace higher took place in March, but it wasn't clear back then if the trend had changed or the move lower was just a retrace before resuming the uptrend which had started in August last year. The second retrace higher took place at the beginning of April and when that ended, the picture was clear that the main trend had changed, because this last high was lower than the previous two highs.
Now you could connect the three highs and form an ascending trend-line. That was another sign that the trend had shifted. The final sign that Gold has turned bearish was the break of the support at around $1,281. This week we saw another retrace higher but that ended yesterday right at the 50 SMA (yellow). So, the 50 SMA is confirmed as resistance now.
This is another sign that the trend has changed since this week's high falls below the trend-line which connects the previous highs. I opened a sell forex signal below the 50 SMA yesterday and that closed in profit after I pushed the stop above the moving average. Now Gold should break the 200 SMA (purple) which has turned into support. But one step at a time, because the escalation of the tariff wars between the US and China might hurt the sentiment and panic markets, in which case Gold would benefit as a safe haven.