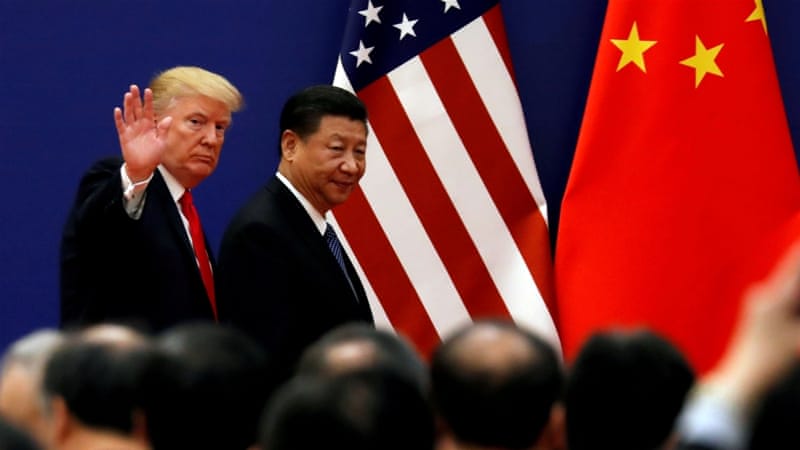 US Session Forex Brief, May 13 – Trade Wars! Expect it to Get Worse Before Getting Better
The sentiment in financial markets have improved this year after the deterioration at the end of 2018. As a result, stock markets have been pretty bullish and safe havens have been bearish, hence the downtrend in Gold since February and the uptrend in USD/JPY since the beginning of this year. But last week, the market sentiment turned pretty negative after Trump's tweet over the previous weekend that the US would increase tariffs on China from 10% to 25%. Markets turned upside down, with safe havens gaining and risk assets declining. But towards the end of the week the sentiment improved a bit as China and the US turned down the tones and held the planned meeting, but the uncertainty remained.
Today, it seems that the sentiment has taken another hit and the decline in stocks has resumed again. The tariffs rhetoric is escalating again and besides the trade war with China, the US seems set to go on another tariffs war with the EU. Trump has just tweeted again on China, suggesting that China better suck up and accept the trade deal, otherwise things will be very bad for China. Besides, Wilbur Ross said last week that Trump will decide about auto tariffs on European cars on May 18 and today we had Germany refusing to comment, while the European trade commissioner Cecilia Malmstroem threatened back with prompt retaliation if the US goes ahead with tariffs. So, it seems that the trade deal between the US and China will be on hold for a few months, until one of them backs off and decides to come back to the negotiating table. Until then, stock markets should remain bearish.
European Session
UK's Barclay is Afraid of UK Remaining in the EU Unwillingly – UK Brexit secretary, Stephen Barclay, reported to The Sun that the UK is at risk of 'sleepwalking' into staying in the EU. He fears that a further extension may not be granted. The message is clear, it's either a no-deal Brexit or no Brexit at all. It would be inexcusable for the government to not use the coming months to continue to prepare for a no-deal outcome
China Standing Firm in Its Position – China's auto industry association says US tariffs are to have a big impact on country's car parts exports, but China is standing its ground. China's foreign ministry spokesman, Geng Shuang, commented early this morning that trade retaliation measures will be released at some point. For now it's 'wait and see' on retaliatory measures and they have no information on any Xi-Trump meeting at G20 summit. He added that China will never surrender to foreign pressure. He hopes to meet US halfway on trade talks and said that tariffs are not the solution.
BOE's Broadbent Speaking – BOE deputy governor, Ben Broadbent, spoke in an interview with the Press Association and the headline comment was that any BOE rate hikes will be gradual. Although he doesn't know which way rates would go in case of a messy no-deal Brexit. Broadbent hasn't decided whether to apply to succeed Carney as BOE governor. Delay in Brexit deadline to October will have a negative impact on investment. Investment already feeling the consequences of uncertainty. If Brexit deal is struck, there could be quite a strong rebound in investment.
EU Responds to US Car Tariff Threats – UK Construction output declined considerably, posting a 1.9% decline for March vs -0.9% expected. Prior was +0.4%; revised to +0.5% Construction output YoY now comes at +3.2% vs +4.5% expected. So overall, quite upbeat numbers for Q1, but not so much for March, especially the GDP and construction output.
China Wants US to Meet Them Halfway – German officials commented earlier that Germany won't participate in speculation about US decision on auto tariffs. But EU's trade commissioner Malmstroem didn't sound so calm when she said that the EU would retaliate immediately if US decides to impose tariffs. But she is hoping for the best regarding possible auto tariffs. Although, she will be meeting with US's Lighthizer next week.
US Session
Trump Tweeting on China – Donald Trump started tweeting early today after China decided to retaliate today.
He continued: "I say openly to President Xi & all of my many friends in China that China will be hurt very badly if you don't make a deal because companies will be forced to leave China for other countries. Too expensive to buy in China. You had a great deal, almost completed, & you backed out!"
China Responds Back – It didn't take long for China to respond and they are placing 5%-25% tariffs on $60 billion of US goods. Here is the tweet:
The trend remains bearish
The decline has resumed again
The 50 SMA was providing resistance
Fundamentals just turned more bearish

The 50 SMA has now turned into resistance
USD/JPY turned bearish at the start of last week, opening with a gap lower and we saw a similar gap this morning. The downtrend lost some pace at the end of last week as sentiment started to improve a little, but now the sellers are in charge again and they are pushing lower after China announced retaliation on $60 billion worth of US goods. USD/JPY has lost another 60 pips just now, so the situation is pretty bearish for this pair.
In Conclusion
China just announced a short while ago that they are going to retaliate, while Donald Trump tweeted that this would be bad for China, especially if they don't get down and sign the trade deal. Reports also say China may stop purchasing US agricultural products and energy, cut Boeing orders and restrict US service trade with China. The Global Times reports that Chinese scholars are discussing the possibility of dumping US Treasuries and how to do it specifically. So, it is getting worse guys, brace yourselves.