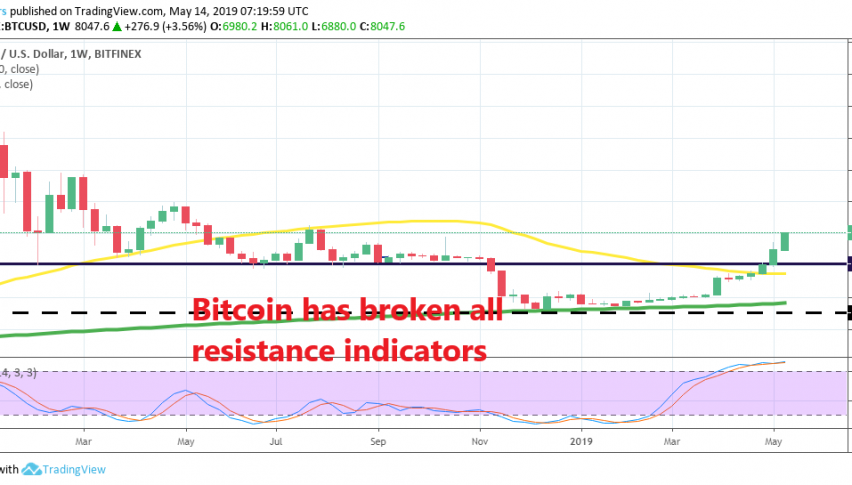 The Bearish Trend for Bitcoin is Now Over! Looking for Levels to Buy
The decline in BITCOIN and other cryptocurrencies is finally over. The decline was not as ferocious as the surge at the end of 2017 but the pressure to the downside was pretty clear. Bitcoin lost more than 80% of its value during this time, but the decline ended at the 100 SM (green) above $3,000.
I pointed out this moving average several times during the last six months, but I didn't believe that the trend had changed, which it now has. So, I got burned with a few sell signals in Bitcoin as you might have noticed. We should trust the charts and the weekly chart was telling me that the trend was changing and now everything confirms the trend reversal.
The 100 SMA did a good job as support and it seems that this was the target for sellers. Although, I was hoping that the price would pull back down from the 50 SMA (yellow) or from the $,6,000 level, to the 100 SMA once more before turning bullish. Bitcoin did find some resistance for a few weeks before breaking above it last week.
But now the trend reversal is confirmed after the 50 SMA was broken and last year's support at $6,000 was broken as well. After that the price kept surging and the $7,000 and $8,000 levels were broken pretty easily. Now the next target for Bitcoin is $10,000. We should look to buy Bitcoin now but I will wait for a pullback lower, probably to the $6,000 level which will now likely turn into support again, or to the 50 SMA which comes at around $5,400.