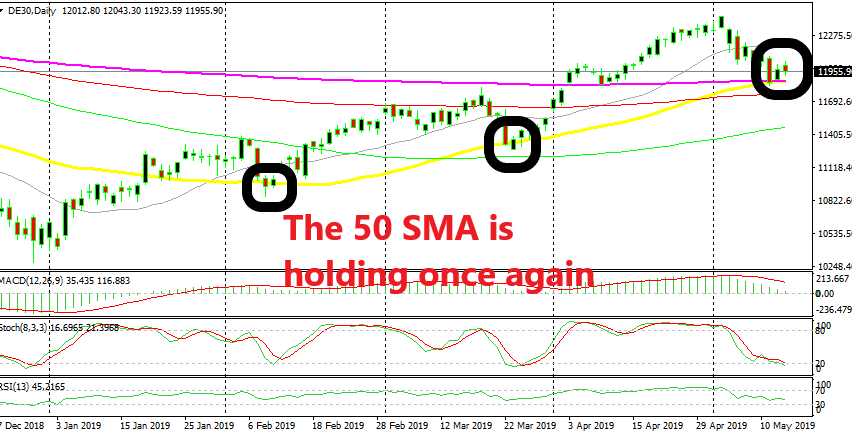 A Great Opportunity to Buy Stocks If We Don't Head Into Another Trade War
Stock markets have been running on a bullish trend since the very end of last year when they made a bullish reversal after having traded on a bearish trend for many months. The indicator which has been providing support, thus holding the uptrend in place during this time, has been the 50 SMA (yellow).
The price has leaned on this moving average during deep pullbacks, while on shallow retraces the 20 SMA has been providing support. The trend has been of decent pace as the larger moving averages haven't been able to catch up with the price – that's how the strength of the trend is observed.
Although, right now we are seeing another deep pullback and the price reached the 50 SMA again on Monday as the sentiment turned negative again after the trade war escalation between US and China. It held in the first attempt, but we're not too far from it either. The 200 SMA is also standing a the same place and it provided resistance on the way up on Monday, so it has turned into support now.
The stochastic indicator is also oversold which means that the retrace lower is complete. But the trade war is escalating as we said, which might hurt risk assets such as stock markets further. Although, if tones start to soften, then we might see a jump higher and DAX could resume the bullish trend. But that's wishful thinking, so we will just follow them for a while longer.