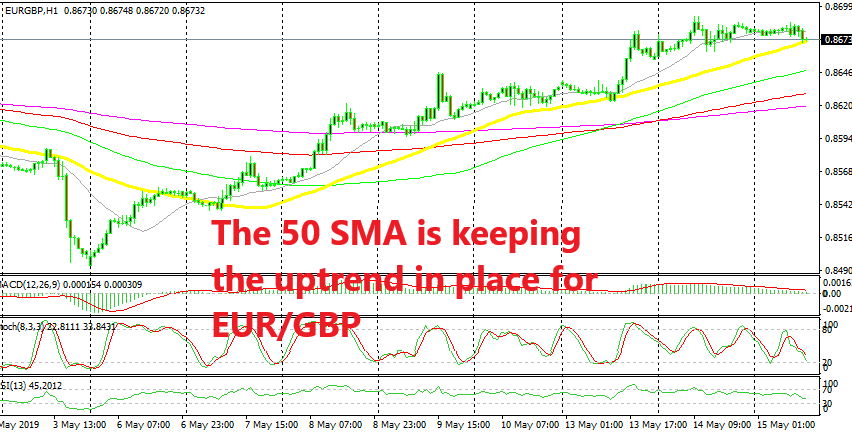 The 50 SMA Keeps EUR/GBP on the Uptrend
EUR/GBP turned bullish at the beginning of last week at the 85 level and since then this pair has gained nearly 200 pips. Most of this move has been induced by the GBP which has turned bearish as we approach the Brexit vote once again. The other votes have failed as we know, but we are hearing some positive comments, as my colleague Arslan pointed out on his last forex update.
So, EUR/GBP has been on an uptrend since then and the uptrend has been quite consistent. The indicators which have been keeping this uptrend in place are the 50 SMA (yellow), which is the defining indicator for this trend, and the 20 SMA (grey), which has taken its place when the trend has become stronger.
The trend is still pretty strong since the larger period moving averages haven't been able to catch up with the price. Although, we have seen some consolidation in the last two days and EUR/GBP is now trading just above the 50 SMA.
Will the uptrend resume again now or will the 50 SMA break? For the moment it is holding since the price has pulled back higher off of it, but the ongoing Brexit concerns might ruin things. Although, we might be persuaded to go long if the price forms a reversing signal, such as a pin or doji candlestick.