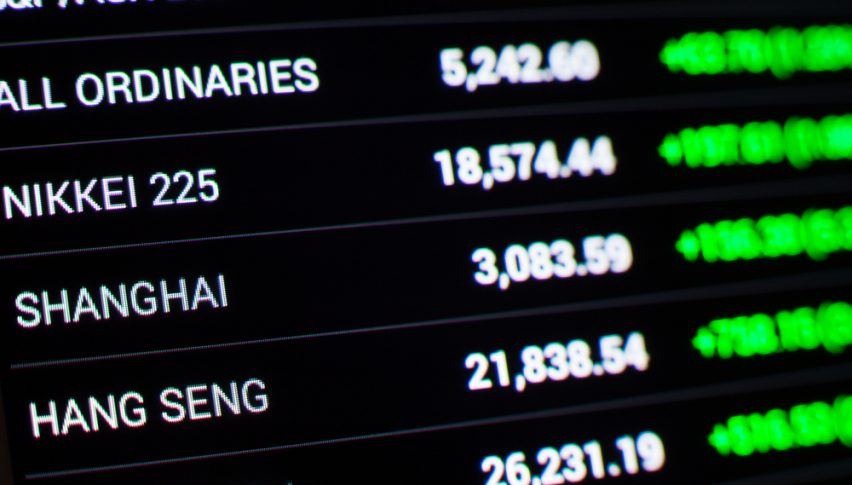 US Session Forex Brief, May 16 – Sentiment Turns Bullish in Stock Markets Despite the Escalating Trade Conflict
The sentiment turned pretty bearish in financial markets last week after the trade war which was heading towards a solution came back to haunt us again as traders. China decided to backtrack on promises it made to Trump which was followed by increased tariffs by both sides. Commodity Dollars have taken it on the chin as they get hit both by the deteriorating sentiment, since they are risk assets, as well as by exports to China which are expected to decline in the coming months if the trade war escalates.
In fact, the trade war is escalating as we heard this morning from China's Foreign Ministry that the US is bullying China and it will take counter measures. They have already placed tariffs on US goods as retaliation, so I'm not sure what they are going to do next. They also added that China will never make concessions in important matters of principle, whatever those matters are. Stealing intellectual property and force Western companies to transfer technology? The Huawei situation is also getting worse, which might be the tipping point for a total trade war. Nonetheless, stock markets have been bullish in the last three days, especially today.
European Session
European Trade Balance – The trade balance in the Eurozone has been on an increasing trend, which means that the surplus has been increasing and last month's report which was for February showed a 19.5 billion Euro surplus. That was revised higher today to 20.6 billion. Although, the trade balance was expected to fall back to 19 billion Euros in March, but today's report showed that it declined further to 17.9 billion.
China is Standing its Ground, Again – China's Commerce Ministry commented early this morning that it will have to take necessary countermeasures if US presses along on trade. China strongly opposes US's bullying, maximum pressure tactics and regrets US escalation of trade tensions. US actions have caused great setback in trade talks. National security concept is being abused regarding Huawei. China calls for US to avoid impacting trade relations forget but will take all necessary measures to protect its firms. They continued further: China says will never make concessions in important matters of principle. A trade resolution doesn't require Trump and Xi to meet. The impact of this trade dispute on China's economy is completely manageable and they will further implement measures aimed at minimizing trade dispute impact. US companies and consumers are the victims of a trade war and China would be forced to retaliate if US is headstrong on trade.
ECB's Visco – ECB governing council member, Ignazio Visco, said early today that the Euro area, Italy, and global economy are experiencing a difficult time. Trade tensions are mostly fueled by US which add to global economic slowdown. Italy must up productivity to fully recover its growth path
Bundesbank's Weidmann Thinks Inflation Is Too Low – Bundesbank president and ECB governing council member, Jens Weidmann, was speaking in Hamburg saying that domestic inflation is 'stubbornly low'. US auto tariffs would hit German car makers hard. US-China trade escalation risks 'poison' for US GDP. The net effect of rate tiering on banks could be negative. No need to postpone policy normalization if outlook allows for it.
Huawei Responds to US' Executive Order – Huawei published a declaration today after the US banning, saying that US restrictions will put the country behind on 5G deployment. Will engage with US government regarding product security. The company is willing to come up with effective measures to ensure that and is committed to foster 'close relationships' with European countries and carriers.
Brexit Talk – Theresa May's spokesperson said today that there will be more talks between government and Labour in the coming days, but there's nothing more to talk about, so this is mostly for show. A bit later, House of Commons leader, Andrea Leadsom, added that the withdrawal agreement bill will be introduced ASAP to give lawmakers time to consider it, but I don't think anything has changed.
US Session
Canadian Manufacturing Sales – Manufacturing sales declined for three months from October until December at the end of last year. They turned positive in January but declined again in February. Although, today's report which is for March was expected to show a strong increase of 1.5% in sales, but they grew even more that month, posting a 2.1% increase on today's report.
US Building Permits – Building permits were in a range between 1.33 million at the end of last year and the beginning of this year. But in March they softened a bit to 1.27 million, which was revised higher today to 1.29 million. For April, building permits were expected to remain at the same level, but they beat expectations slightly, increasing to 1.30 million.
Philly Fed Manufacturing Index – The manufacturing index was in a constant decline last year as it dived from around 35 points last May to -4.1 points in February this year. In recent months it has been pretty volatile but weak nonetheless. Although, it made a jump this month beating expectations of 10 points and coming at 16.6 points, which is a good sign.
US Housing Starts – The housing starts were also on a declining trend this year and in March they fell to 14.4 million, as last month's report showed. Although that was revised higher to 1.17 million today. For April, housing starts were expected to increase to 1.21 million but came at 1.24 million, which is another positive sign for the economy.
The main trend remains bearish
The retrace higher is complete
The 50 SMA provided resistance
Fundamentals are bearish

The 50 SMA provided solid resistance again today
AUD/USD has been on a bearish trend for more than a month and the downtrend is picking up pace as fundamentals deteriorate further. Only this morning we saw a 2 point jump in the unemployment rate, while China and the US are increasing their tones. Although, we saw a retrace higher take place this morning which looked like another great selling opportunity after the winning trade yesterday in this pair. The retrace was complete and the 50 SMA (yellow) was providing resistance, so we decided to go short again and now this pair is turning bearish.
In Conclusion
So, the rhetoric is getting heavier by both the US and China on this renewed trade war. Huawei tried to sound optimistic today on their declaration, but Trump is also pressuring European countries to ban it from their markets. This could be the final nail in the coffin for the trade agreement between the US and China which would kill risk assets.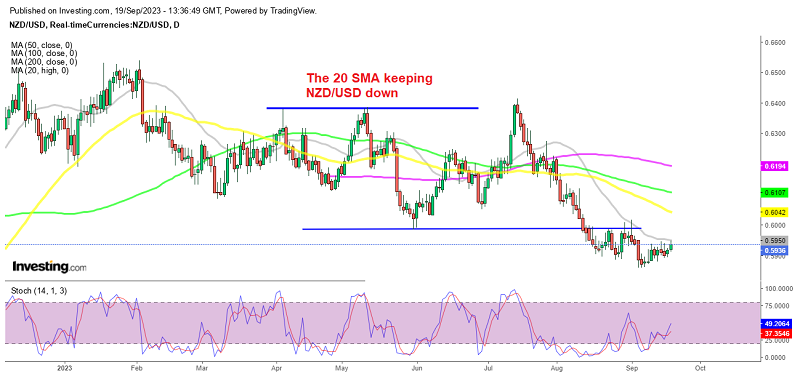 2 days ago