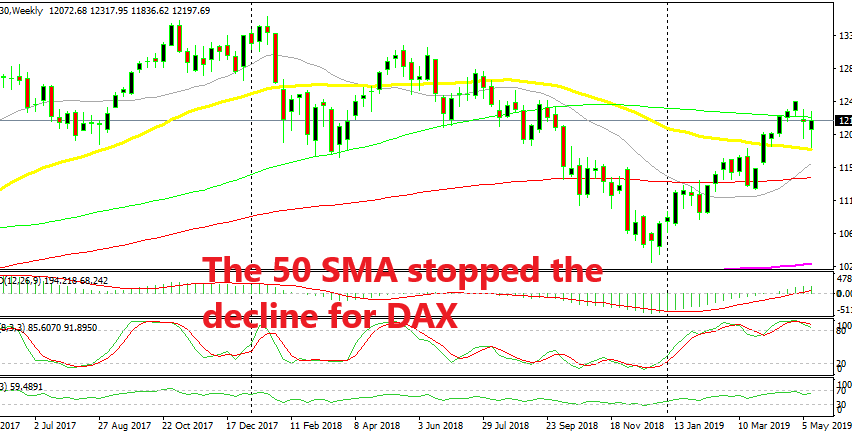 The 20 Weekly SMA Keeps the Downtrend in Place for EUR/USD
EUR/USD turned bearish at the beginning of last year after being on a bullish trend during 2017 and early in 2018. The top was at 1.2550s where the 100 SMA stood on the monthly chart, if you switch to that time-frame. So, that moving average turned into resistance, although we will take into scope the weekly time-frame chart.
The sellers made quite a swift reversal and EUR/USD fell more than 12 cents in a few months. The 100 SMA (red) turned into resistance for several months as this pair consolidated and traded sideways during that time. After a retrace higher in September which ended at the 100 SMA, the bearish trend resumed again.
Although, the downtrend lost pace during the second period which is still ongoing, compared to the first wave down in Q2 of last year. But the downtrend has been consistent nonetheless and the 20 SMA (grey) has been defining the trend during this time. This moving average is slipping lower and it is pushing the price lower as well.
So, this is the indicator we have to follow to see if the trend changes in EUR/USD. If the price moves above it, then that would be a strong sign that the downtrend might be over. Until that happens, trading the downside in EUR/USD is safer. We have seen the price pierce the 20 weekly SMA a few times this year, but it has reversed back down again soon, so don't get too carried away if you see another piercing. The price has to close clearly above the 20 SMA for the bearish trend to be over or, at least, under threat.
The USD is looking softer today after the unemployment claims showed a jump to the highest since October 2021 last week
3 hours ago
USD/CAD continues to slide lower, although it stalled to the bottom of the range earlier, after the dive on the 25 bps hike by the BOC
1 day ago