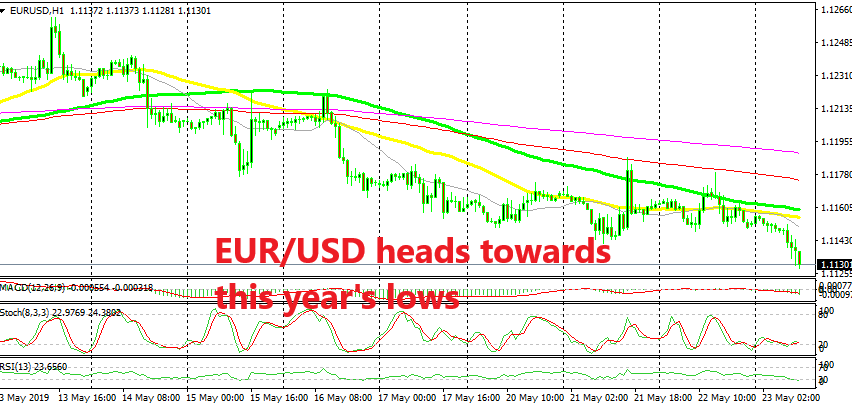 Eurozone Manufacturing Figures Didn't Help the Euro
The manufacturing reports from France, Germany and the Eurozone were released this morning. This is the first reading because there's a second reading in a couple of weeks. Manufacturing fell in deep contraction in Germany and the Eurozone, and in France this sector  contracted in March.
Although, last month the slowdown in this sector which began earlier last year sort of stopped and the manufacturing PMI ticked higher. That was a positive sign that perhaps manufacturing activity would pick up in the Eurozone. The second revision for April which was published early this month also ticked higher.
Today's reports wee expected to show a small improvement as well and in France manufacturing PMI beat expectations indeed, coming at 50.6 point against 50.5 points expected and up from 49.6 points in April, which was revised to 50 points. French manufacturing PMI came at 50.6 points, which means that this sector is out of contraction now, although it is not too far away from it yet.
German manufacturing was expected to improve a bit as well and the PMI indicator was expected at 44.9 points, up from 44.4 points in April. That would still mean deep contraction, but it fell even deeper as today's number came at 44.3 points. That seems to have affected the whole Eurozone manufacturing activity which also missed expectations, coming at 47.7 points, against 48.2 expected.   
The Euro has been on a bearish trend for a couple of weeks and this morning the decline resumed again. Although, the decline in EUR/USD stopped for some time ahead of these reports as traders were waiting for these figures. If the manufacturing activity had jumped higher, then the Euro would have turned bullish for some time since this is the most important sector in Europe. But, we saw yet another miss and the Euro should stay bearish for the weeks to come.