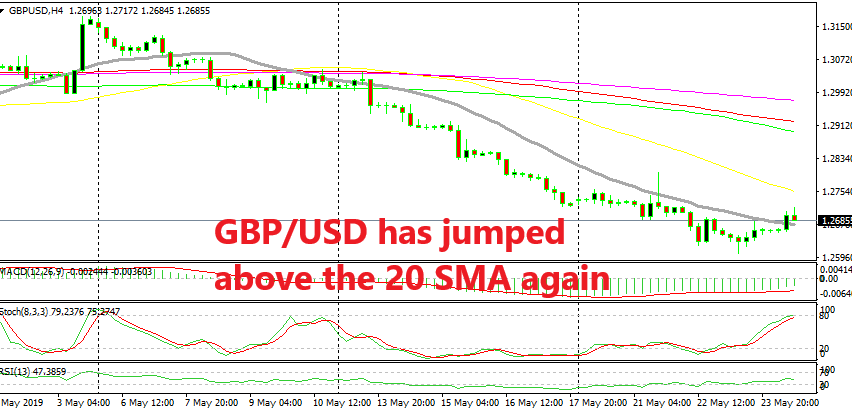 GBP/USD Moves Higher on Theresa May's Resignation but the Downtrend Remains in Place for the Moment
Theresa May is finally leaving the post of the British Prime Minister after making "a hole in the water" with Brexit and leaving the UK in a big mess. The GBP has moved higher after her resignation and GBP/USD is also being helped by the current weakness in the USD.
This pair has been on a downtrend for months, but in the last two weeks the bearish trend has picked up considerable pace as we approach the Brexit deadline without a deal in sight. The change in the leadership now brings up hopes for the Brexit deal passing, or whatever scenario which might take place. Hopefully it will be a better one than the nonsense that we have seen in British politics in the last several months.
Although, the trend is still bearish for this pair. The price has moved above the 20 SMA (grey) on the H4 hart, but it did so earlier this week and the price returned back down, resuming the downtrend and making new lows.
So, both sides are open now; the downside is still in play since nothing has substantially changed yet. But on the other hand, things might change if we get another referendum or new elections and in that case, the GBP would surge higher. But, we have to follow British politics in the coming days/weeks to see where things will be heading if we want to trade the GBP.