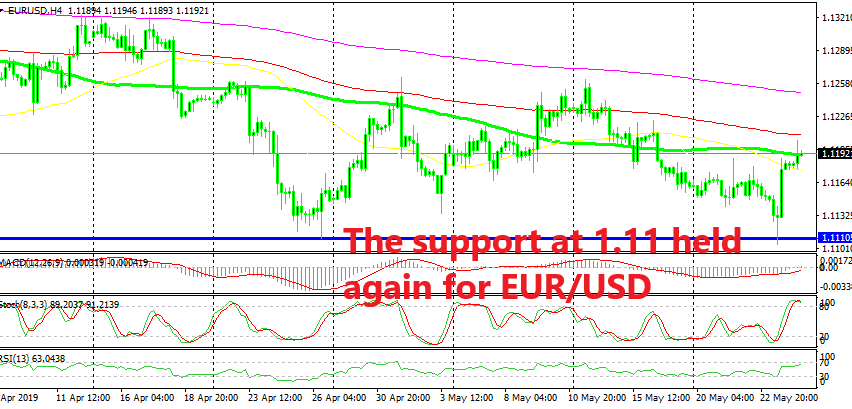 The Support Above 1.11 Holds for EUR/USD
EUR/USD has been on a bearish trend for more than a year after reversing at 1.12550s around this time last year. The downtrend has lost pace since last summer, but this pair keeps making new lows and the highs keep getting lower, which means that the sellers are in charge.
EUR/USD formed a support above 1.12 which lasted for several months from November last year until March this year, but that support was broken and we saw this pair make new lows. The new low was made at the end of April and it came at 1.1110. The price retraced higher in the following weeks but the bearish trend resumed in the last two weeks and yesterday the sellers had another go at the support area above 1.11.
The momentum was with the sellers since the Eurozone manufacturing and services reports missed expectations and were pretty disappointing yesterday. But, the US manufacturing and services reports were pretty horrible as well, showing that both of these sectors of the economy fell close to stagnation this month.
As a result, the Dollar turned bearish and EUR/USD bounced off the support, turning bullish in the last few trading sessions. The price pushed above 1.12 a while ago but has pulled back a bit and is now trading around the 100 SMA (green) Now we will see if the buyers wil remain in control or whether sellers return and the downtrend resumes. If the price moves above all moving averages on the H4 chat above, then there's a good chance we will see a decent pullback higher, otherwise, the downtrend will resume. SO, we have to watch the price action around these levels in the coming hours.
The USD is looking softer today after the unemployment claims showed a jump to the highest since October 2021 last week
2 days ago